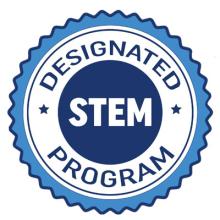 This program is STEM designated, which means you will be trained in areas of technology that are in high demand with United States employers. International students studying in person on student visas will be eligible for an Optional Practical Training (OPT) extension of 24 months, for a total of 36 months.
Elegant Problem Solving
Computer science encompasses the study of computers–hardware, software, computational theory, algorithms, and how humans interact with technology. Above all, it's about solving problems. With a master's degree in computer science, you'll be equipped with sophisticated problem solving skills; and be prepared for a lucrative career in this every-growing sector.
The Value Proposition
Distinguish yourself from the pack with a program that grounds you in foundation and cements that knowledge with practical experience in cybersecurity, artificial intelligence, data science, web and app development, and more.
Free your entrepreneurial spirit and build your portfolio as you work with faculty and fellow students to ideate, design, and build cool new apps using design thinking methodologies.
Travel internationally to amazing locations with the NYC Design Factory at Pace University to build real products for real companies as part of an international, interdisciplinary team.
You can also complete the MS in Computer Science online.
Take Courses Like…
Algorithms and Computing Theory, Introduction to Parallel and Distributed Computing, Concepts and Structures in Internet Computing, Database Management Systems, Capstone (Project 1 and 2 OR Thesis 1 and 2, less common), Game Programming, Data Mining, Data Communications and Networks, Security in Computer Networking, Pattern Recognition, Big Data Warehousing.
Don't have a bachelor's degree in technology? The MS in Computer Science now only requires students with no prior experience to take one 4-credit bridge course. This course will cover everything you need to know before starting the master's program and set you up for success.
Add Opportunities and Experiences
Blend web development with personal and professional development at Pace University's Seidenberg School. Alongside rigorous academic classes in a wealth of computer science topics, you'll have access to faculty-led research labs where you can gain practical experience, attend and present at conferences, and even get published in research journals. Your master's experience at Pace will help you establish yourself for the career you dream of—all you have to do is get involved.
At Seidenberg, we believe that getting exposure to different ways of seeing things is crucial to developing critical thinking and problem-solving skills. That's why we involve so many students from other majors and departments in our experiences, such as the NYC Design Factory program. Not only can you meet and work with students studying other topics, but the program includes global travel to collaborate with other universities on real projects for real companies.
Choose Your Career
Companies depend on information systems specialists to make strategic business decisions. As a graduate of the program, you'll be positioned to guide organizations toward better decision-making based on data. One of the best things about tech jobs is that they're available in every industry, which makes them as numerous as they are diverse.
Career Options
Business Analyst
Cloud Administrator
Cybersecurity Specialist
Database Administrator
Data Analyst
Data Scientist
Entrepreneur
Mobile App Developer
Software Developer
vArchitect
and more
Where Graduates are Employed
Amazon
Facebook
Federal Bureau of Investigation
Google
IBM
JPMorgan Chase
Microsoft
Morgan Stanley
Prudential
United States Government
average salary for computer scientist jobs in NYC (Source: PayScale)
Number of new US tech jobs in past year (Source: CompTIA)
of Seidenberg students are employed, continuing their education, or pursuing service within one year of graduation