Parenting, Prison, and Pups, the only program of its kind, is an evidence-based parenting program provided to female jail-based prisoners, the most underserved of all corrections populations, to help them reinvest in their relationships with their children. We utilize the Parenting Inside Curriculum (PIO) and enhance it with Animal-Assisted Therapy (AAT). PIO was reviewed by the Substance Abuse and Mental Health Services Administration (SAMSHA) and is now included on the National Registry of Evidence-based Programs and Practices (NREPP).
Image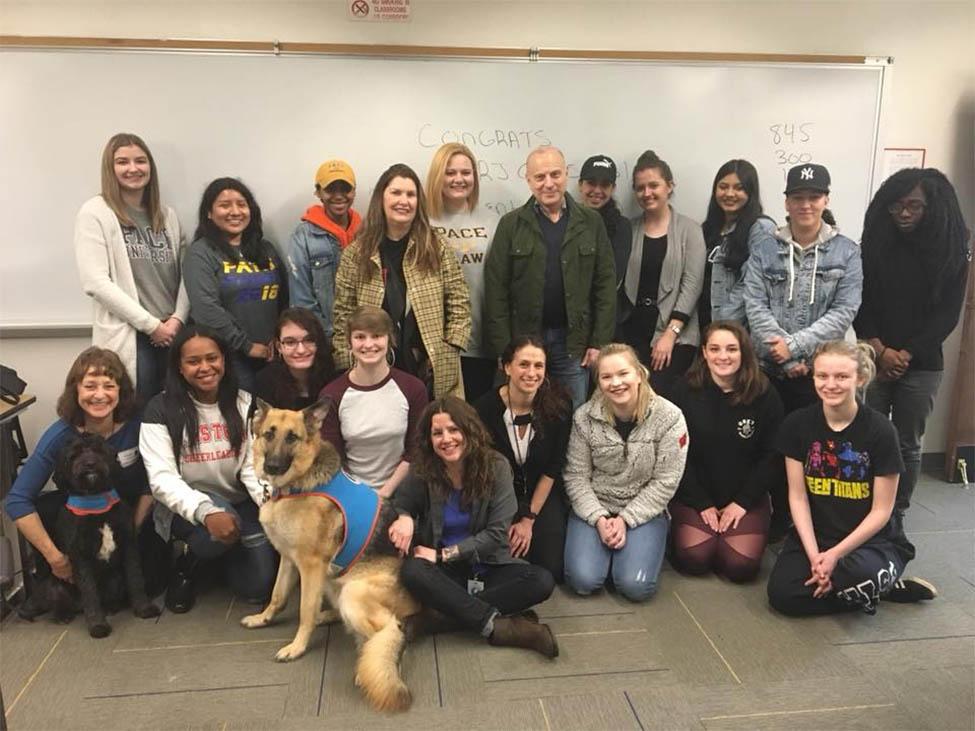 PPP consists of a strong partnership between Dyson College and the WCDOC (the Westchester County Department of Correction – a county jail located in Valhalla, NY) and MCC (The Metropolitan Correctional Center – a federal jail managed by the Bureau of Prisons located in lower Manhattan). Presently, we are proud to partner with Hudson Valley Paws For A Cause who is not only a leader in animal-assisted therapy but whose mission is to help those in need of emotional support of any kind. All of their dog/handler teams are registered therapy teams, insured, highly trained, certified Reading Education Assistance dogs and Red Cross volunteers.
Parenting, Prison, And Pups Blog Facebook
How to Join
Students enrolled in CRJ 331 – Strategies in Corrections Administration – a civic engagement course, complete 20 service hours outside of our classroom by serving as teaching assistants for PPP. Students work directly with the women at the jail, they received specialized training in both AAT and in working effectively in the corrections setting, and they visit with the Lifer's Group at The East Jersey State Prison to learn about the experiences of incarcerated men. This program has proved to be transformative for our students and provides excellent work experience. This course is held during the fall semester in Pleasantville and during the spring semester in NYC. You may also obtain more information by speaking with the Center for Community Action and Research (CCAR).
Students who have a larger interest in our jail-based services should enroll in CRJ 242 – Crime and Public Policy, an "Inside-Out" type class. It is the only such class offered at Pace University and there are limited spots for this course. Each spring semester, students will take this class at the Westchester Jail with incarcerated men and women. Together, we will discuss the causes of crime and examine criminal justice policy. Students from both campuses are welcome and free transportation is provided from the Pleasantville Campus to the Jail and from the jail back to campus, in addition to the Metro-North train station. Our goal is to integrate future classes with AAT to enhance college learning for both our inside and outside students at the jail.
Students interested in either course should email Kimberly Collica-Cox at kcollicacox@pace.edu