Working with community partners throughout New York City and the Hudson Valley, the environmental studies and science department creates new projects and opportunities that provide both hands-on education for our students and a place for people to meet and discuss the environmental issues that are affecting our region and the world.
The main goals of these partnerships are to:
Integrate students into projects at local preserves
Create internship, externship and mentorship opportunities for students to gain the experience needed to become job-ready
Utilize the resources and learning opportunities provided by these organizations
Share scientific research knowledge throughout the community
Build lasting relationships with local organizations through special topics courses, ongoing/long term research projects, co-lead grant proposals
We have partnered with the following organizations to create workshops, events, courses, student projects and internships that teach students professional and scientific skills while helping to progress education and research in New York City and Westchester County.
Hudson River Watershed Alliance
Image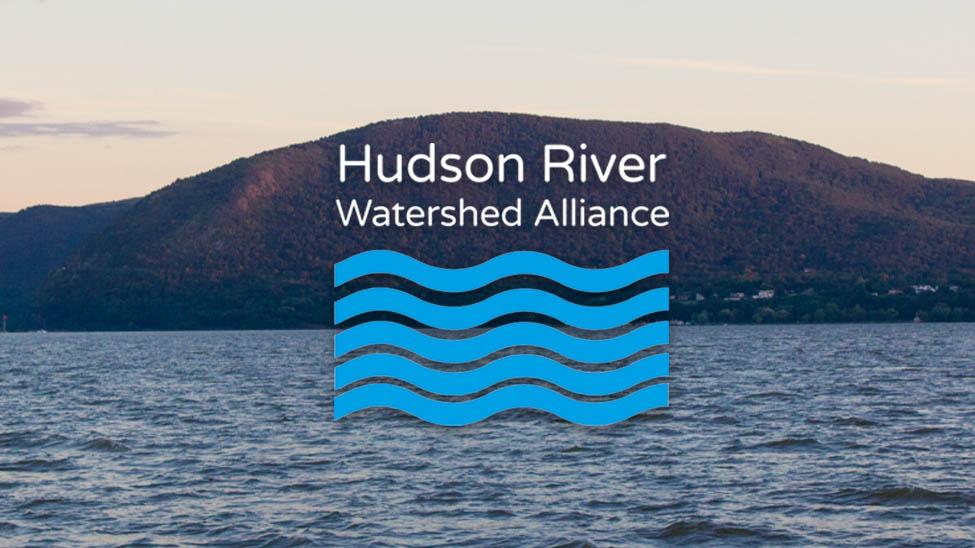 The Hudson River Watershed Alliance is a coalition of groups, individuals and municipalities working to ensure clean and plentiful water resources throughout the Hudson River Watershed.
Their mission is to protect, restore and conserve water resources by supporting a collaborative network of information, innovation and effective stewardship.
The Environmental Studies and Science department at Pace University is a sponsor of the organization's annual conference and is a collaborator on various projects. Prof. Michael Finewood, PhD, sits on the Board of Directors of the Alliance.
Rockefeller State Park Preserve
Image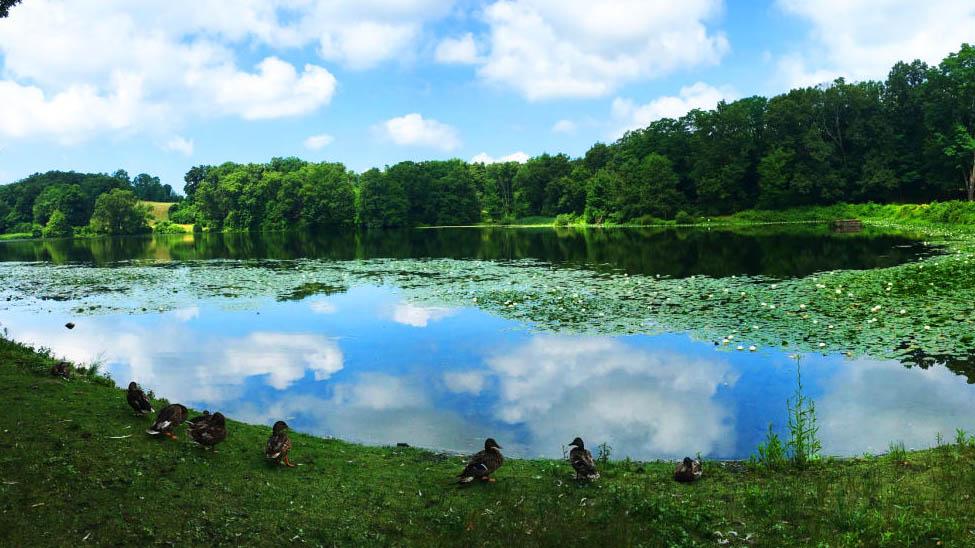 Located next to Pace's Westchester campus, Rockefeller State Park Preserve contains over 1,400 acres of woodlands, fields, wetlands, bridges, and waterways, with beautiful views of the Hudson River.
Pace University has partnered with the preserve to explore how visitors utilize the park. Recently, Pace University Environmental Studies student, Emma Weis '17, monitored trail use, mapped out trail accessibility using geographic information system (GIS) mapping, and conducted field surveys with park visitors to gauge their perceptions of the park as an accessible greenspace. Emma worked under the advisement of Environmental Studies and Science Assistant Professor, Michael Finewood, PhD, and Rockefeller State Park Preserve Manager, Susan Antenen.
Students may get involved with Rockefeller Park through internships, research projects, and/or volunteer work.
Stone Barns Center for Food and Agriculture
Image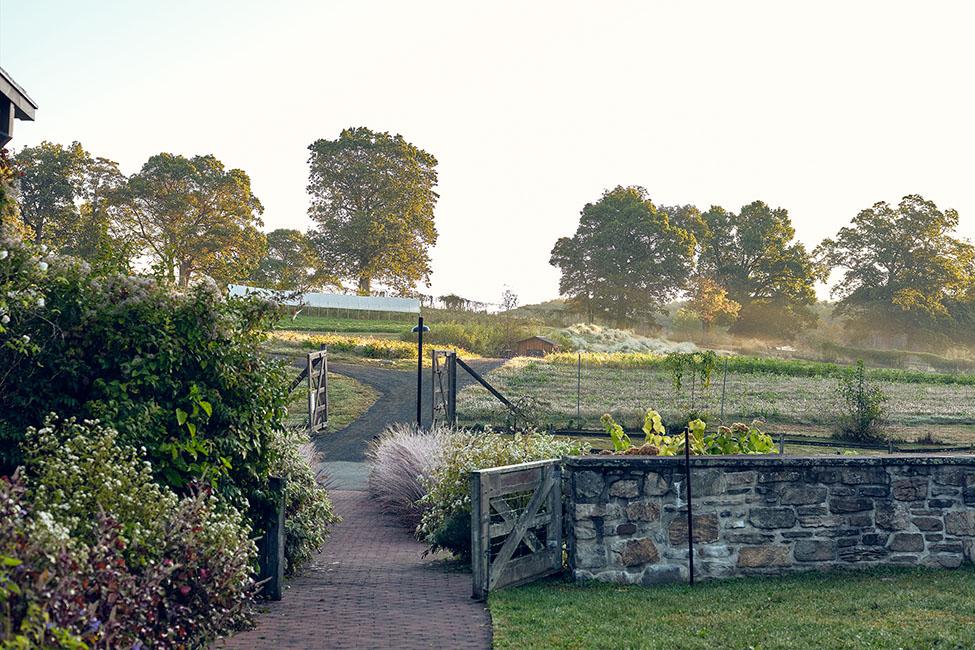 Stone Barns Center for Food and Agriculture is a nonprofit organization creating a healthy and sustainable food system, convening changemakers, training farmers, educating food citizens and developing agro-ecological farming practices.
Stone Barns believes that forest conservation strategies that achieve both economic and ecological goals can be accomplished simultaneously by introducing pigs into their natural habitat and thereby recovering diversity, preventing potential threats to disease, and promoting better carbon sequestration through soil renewal. Recently, Pace University Environmental Studies student, Chase Harnett, '19, assisted Stone Barns' Farm Director Jack Algiere, Farm Education Manager Davis Lindsey and Farm Data Manager Shannon Rooney in evaluating and identifying existing forest species and their density. The purpose was to create a baseline for understanding species diversity and soil conditions before introducing pigs into the woodland ecosystem.
Students may get involved with Stone Barns through internships, research projects, and/or volunteer work.
Teatown Lake Reservation
Image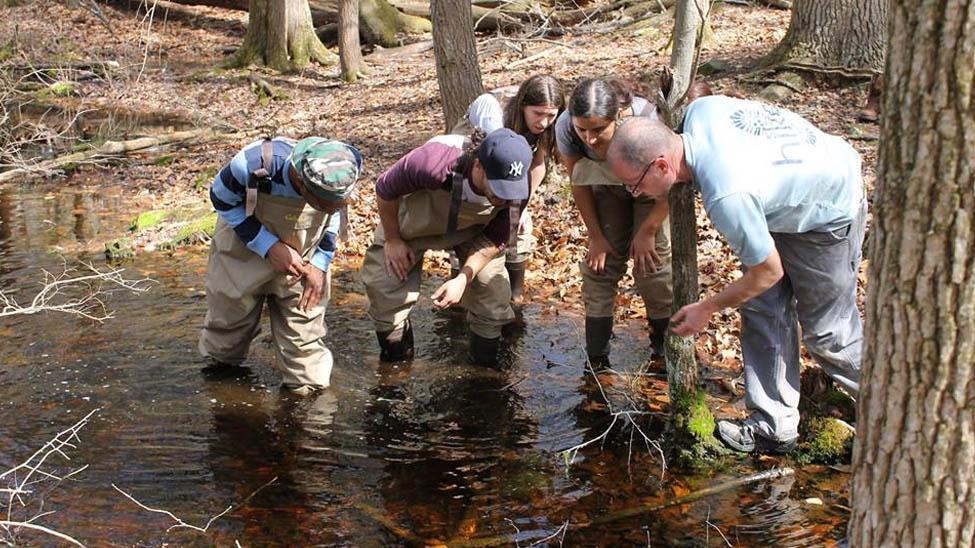 Teatown Lake Reservation is a nonprofit, environmental organization with a 1,000-acre nature preserve and education center located in the Lower Hudson Valley. Their mission to inspire the community to lifelong environmental stewardship is achieved through environmental education, stewardship of Teatown's preserve, and regional conservation.
Pace University partnered with Teatown's Conservation Science program starting in 2015 to launch a field-based ecology course, "Natural History of the Hudson Valley." This course, available to Pace's undergraduate and graduate students, focuses on developing practical skills in plant and habitat identification, GPS navigation and ecological sampling techniques. The course culminates in a habitat identification practical where students visit a section of our preserve and independently map habitats and identify dominant vegetation. Students who successfully complete this course are then eligible for internships at local environmental organizations.
In addition to the field study course, students may get involved with Teatown through internships, research projects, and/or volunteer work.