I. Academics
A. Program
How long will I stay in the Global Pathways Program?
The length of the Pathways Program may vary from 1 semester to 3 semesters (terms) and depends on your initial TOEFL/IELTS score. Please refer to your official acceptance letter for the number of terms of Pathways that you are required to take.
What are the goals of the Pathways Program?
The primary goal of the Pathways Program is to assist you with improving your English proficiency in order for you to satisfy the condition of your admission and transition into your degree program upon completion of Pathways. The program is also designed to assist you with academic and socio-cultural transition.
What courses will I take in Pathways?
The Pathways curriculum is fixed and depends on your academic level (undergraduate or graduate), the number of terms you will take in the Pathways program (1, 2, or 3), and your major (for graduate students only). All Pathways students should expect to take English courses delivered by Pace's English Language Institute (ELI courses) and some academic courses. The number of academic courses will vary depending on the factors indicated above. All academic credits earned while in Pathways will be counted towards your degree. ELI courses carry 0 credits.
Can I take more academic courses or different academic courses while in Pathways?
The Pathways curriculum has been designed to ensure your success in satisfying the condition of your admission and is, thus, built around the ELI courses appropriate for your language proficiency level. It also allows you to take a certain number of academic credits, but that number is limited to very specific academic courses. All undergraduate Pathways students will take basic academic core courses that will satisfy some of their undergraduate core requirements, and will still be adequate for their English proficiency level. Graduate students will take from one to three academic courses in their future major. Please see the tables below for more information:
Notes:
*Undergraduate curriculum might be subject to change depending on course availability, but students can expect that all undergraduate academic courses taken while in Pathways will be counted towards Pace's undergraduate core curriculum requirements. Learn more about Pace's undergraduate core curriculum.
**For undergraduate students with 2 or 3 GP terms, the term in which they take ART 215 or RES 106 may vary depending on course availability.
***Students will have the opportunity to enroll in an optional elective if they meet all other GP course requirements and receive approval from a GP advisor.
UNV 101
First-Year Seminar: Introduction to University Community. This course will explore the unique aspects of university life by engaging students in personal discovery through readings, writing, and discussion. 1 credit.
ART 215
New York and the Visual Arts. This course will introduce students to the painting, sculpture, photography, and installation art of the New York art world. Study of the theory and criticism current in contemporary art will be accompanied by visits to a wide range of museums, galleries, and artists' studios. 3 credits.
RES 106
Religions of the Globe. The course is a study of the major religious systems of the globe and the formative influences they have on human culture. Consideration will be given to Hinduism, Buddhism, Confucianism, Taoism, Judaism, Christianity, and Islam. 3 credits.
CIS 101
Introduction to Computing. At Pace University, and in careers beyond Pace, students will face the challenges of coping with technology and the opportunities to benefit from the productive use of technology. The Computer Information Systems 101 course will provide students with guided hands-on exercises with a variety of computer-based tools through two hours of structured computer lab usage. The hands-on portion of the course will give the student direct experience with an application package (MS Excel), web development (HTML), and computer programming (Alice). The concepts portion will consist of weekly readings from the text, weekly threaded discussions, lecture notes, and other assignments. It will cover basic computer hardware and software topics, computer careers, and computers and society. The two hours of lecture and discussion will promote understanding of the fundamental principles of information technology so that students will be prepared for the new systems and tools of the future. 3 credits.
HIS 108
World History After 1650. A general survey of world history; a study of the world's major cultural areas, their unique achievements and their interaction with and relation to other societies. Covers the period from the mid-17th century.
COM 200A
Public Speaking (ESL). The principles of effective speaking and listening are the focus of this course. Special attention is paid to mastering American English. Students prepare and deliver a variety of original presentations to inform and persuade. At least one presentation is videotaped. The Language Laboratory is used for intensive work on accent reduction.
ENG 99A - 201A
Currently, there are 5 different levels of ESL classes: ENG 099A, ENG 100A, ENG 110A, ENG 120A, and ENG 201A. The first two classes are developmental writing classes for ESL students who need additional work and practice before they take ENG 110A. The last three classes correspond to the ENG 110, ENG 120, and ENG 201 composition classes taken by most undergraduate Pace students. In our ESL composition classes, we teach the same material as in the non-ESL composition classes and hold students to the same high standards of academic writing.
MAT 100 - 131***
Global Pathways students can be placed into one of seven Mathematics courses based on their declared major and score on the Pace math placement exam. These courses provide a solid foundation in multiple mathematics disciplines that students will need as they pursue their degree. Many of these courses carry academic credits and will be applied toward students' degree requirements. Course topics include math fundamentals, algebra, finite math, financial math, geometry statistics, pre-calculus, calculus and discrete mathematics.
HW 101***
Health and Wellness. To introduce the student to a wellness approach to health care. In order to study the inter-relationship of the four variables of "Total Fitness", the student will complete written assignments including analyzing their eating lifestyle, participate in prescribed workouts which include an aerobic warm-up, cardio-vascular endurance training, muscle strength and endurance training using machines and free weights properly and safely, and static stretching for flexibility. 2 credits.
What should I do to register for classes while in Pathways?
In order to be registered for classes for your first semester in Pathways, you need to let us know that you are committed to enrolling by:
Paying your deposit (refer to your acceptance packet for more information)
Applying for and obtaining your F-1 visa for Pace in a timely manner, and
Registering for the mandatory Global Pathways Orientation Program (more information about the Orientation will be sent to you via email before the program start date).
As long as you are in Pathways, the Global Pathways staff will register you for all of your courses. We will also help you register for the classes for your first semester after Pathways.
You will receive your first class schedule at the Orientation.
Can I see my schedule online?
Yes! Once you have been registered for classes, you will be able to view your full schedule in your My Pace Portal account. To access your online schedule, follow these steps:
Log into your my Pace Portal account at portal.pace.edu
Select "Students" tab
Go to "Registration, Grades, and Tuition Schedule"
Make sure "Student" tab is selected
Go to "Student Schedule"
Select the current semester from the drop-down menu and click "Submit"
Your full schedule will be displayed
If you have any difficulties with logging into your My Pace Portal, email the ITS help desk or call at (914) 773-3333.
Please do NOT use the MyPace app to view your schedule, it does not always reflect schedule changes; log on to Pace Portal to view your most up-to-date schedule
Can I submit an updated TOEFL/IELTS score and reduce the length of my Pathways Program or test out of Pathways completely?
If you submit an updated TOEFL/IELTS score before the admission deadline (and before the start of your program), the Admissions Office might be able to re-consider your application, depending on your new score.
However, no new scores will be considered after the admission deadline or after enrollment in Pathways.
Do I need to get certain minimum grades in order to move to the next level of Pathways or to complete Pathways?
Global Pathways progression and matriculation (completion) is based on the following:
Completion Criteria: 2.70 cumulative GPA average or above in all courses within the final Global Pathways term.

Progression Criteria: 2.70 cumulative GPA average or above in all courses within any Global Pathways term.
If GPA of 2.70 is not achieved:
Probation Criteria: 2.69 and below cumulative GPA average. Students may repeat all courses with a C grade or below. Regular advising and tutoring will also be mandated. A student may be dismissed from Pace University if they are unable to achieve the required 2.70 cumulative GPA average upon completing their probationary term.

Dismissal: Students with a 1.0 cumulative GPA or below will be dismissed from Pace University.
It is important to remember that your final grade in each class will be based not only on the quality of your academic work, but also on your in-class participation, attendance, punctuality, and academic integrity.
Can I take summer semester off while in Pathways?
If you are a continuing Pathways student, we strongly recommend that you continue with your Pathways program in the summer in order to make sure you continue to make academic progress and are on track to complete Pathways. If you have compelling personal circumstances or a serious personal or family health concern and must return home for the summer, please contact the Global Pathways Office to discuss your options in advance.
If I complete Pathways at the end of the spring semester, can I take classes in summer?
Yes; although the summer course selection is limited, most students are able to take one or two courses.
One of my professors has an accent; can I register for the same class taught by a different professor?
New York City is one of the most diverse cities in the world and many of its residents were either born or raised in a different state (and might have a regional accent) or abroad (and might have a foreign accent). You will meet people (including your professors and fellow students) from many corners of the world while in New York. All of our professors are experts in their respective disciplines. If this is your first time in an English-speaking country and, specifically, in New York City, please allow yourself some time to adjust linguistically. You will notice that your listening comprehension skills will improve dramatically with practice. It will not be possible to change a professor because of the above reason. If your listening comprehension severely impacts your performance, please feel free to seek advice from your professor or your Global Pathways advisor.
I am an undergraduate Pathways student. What will be my status after I finish Pathways?
Depending on how many terms you have in Pathways (1, 2, or 3) and how you progress from term to term within Pathways, you will complete Pathways with 7-16 credits and will transition into your undergraduate program as a freshman in advanced standing. In order to get to the sophomore level, you will need to accumulate 32 credits.
I am considering changing my major, what should I do?
Please contact the Office of Student Assistance (OSA, One Pace Plaza, 1st floor) to inquire about the process for your educational level (undergraduate/graduate) and major, and please remember to indicate that you are still in Pathways. Once you have changed your major, please notify the Global Pathways Office immediately.
How can I get a copy of my Pace transcript?
Please contact the Office of Student Assistance (OSA, One Pace Plaza, 1st floor) to request a copy of your transcript. Or, visit the OSA Transcript and Verification page for more information.
I am struggling academically. What should I do?
There are several free on-campus resources that you need to keep in mind for the times when you struggle:
Global Pathways English Tutoring Center: email the Global Pathways Office at to inquire about signing up for a free session with one of our professional instructors.
I have encountered difficulties with some things outside of school (roommate troubles, homesickness, time management issues, lack of motivation and interest, etc), but they are impacting my ability to do well in classes. What should I do?
Pace has a great free, confidential, on-campus resource for non-academic situations that might interfere with a student's ability to do well academically. To learn more, please visit the Pace University Counseling Center website.
B. Tutoring Center
Where is the tutoring center?
The Global Pathways tutoring center is located at 41 Park Row on the 7th floor, room number 727.
Where can I find the tutoring schedule?
The tutoring schedule is not posted because it changes every week. The schedule is maintained in the Global Pathways office and students can email Global Pathways to find out about tutoring availability. The tutoring schedule is limited, but the Global Pathways staff will work with you to try and accommodate your needs according to your schedule.
How do I sign up for a tutoring session?
Email Global Pathways to find out about the tutoring availability and to sign up for a tutoring session. You must provide your Pace email address, your UID number and your U.S. mobile phone number in case we need to contact you.
When I sign up, is it for one tutoring session only?
In general, when you sign up for a tutoring session, it will be on a regularly scheduled weekly basis. Sometimes, if you sign up when another student has cancelled, it will be for one session only. As each situation is different, a Global Pathways staff member will clarify on a case-by-case basis.
Are the tutoring sessions in a group?
All tutoring sessions are one-on-one between the student and the tutor.
Who are the tutors?
The Global Pathways tutors are professional English professors and tutors.
What subjects are covered in the Global Pathways tutoring center?
The Global Pathways tutoring center is specifically for students who require additional support in their English classes. Assistance can also be given with academic subjects depending on the content and the nature of the support requested. Students who require additional support for academic classes can also reach out to the Learning Commons.
How can I prepare for my tutoring session?
You are expected to play an active role in your tutoring session by coming prepared. Bring any class materials such as homework assignments or research papers with which you need help. The needs of each student are different, and you must be able to identify how the tutor can help you in order to make the most of your time.
C. Academic Workshops (Grads only)
I am a graduate student and I keep on receiving emails about Global Pathways academic workshops. Are workshops mandatory? Why should I consider attending?
Each semester, Global Pathways offers a series of academic workshops aimed at providing our graduate students with a chance to learn about topics relevant to their future academic and professional careers from some of our best staff and faculty members. The workshops also provide helpful information regarding resources and services available to Pace students. These workshops are required and are integral for your successful transition into your degree program and beyond. They are designed with you in mind and are meant to help you adjust to life in the U.S. and at Pace.
How do I find out about upcoming workshops?
The academic workshop calendar will be determined and distributed to students at the beginning of every semester. It will be sent out in an email to all Global Pathways graduate students. You are encouraged to print this schedule and/or make note of the workshops in your calendar. You will receive reminders about upcoming workshops throughout the semester. Email Global Pathways if you have any questions about workshops.
Do I have to RSVP to every workshop?
Some workshops require an RSVP as there will be limited seats. Most workshops, however, do not require an RSVP. If an RSVP is required, this will be indicated on the calendar.
What are the topics of the workshops?
The topics of the workshops change every semester based on student feedback. Examples of topics include:
U.S. Business Culture
U.S. Classroom and Learning Environment
NYC History Tour & Workshop
Public Speaking
Know your Rights and Responsibilities under the U.S. Constitution
Career Services/ISSO Presentations
Registration Sessions
How can I give feedback?
You will be given the opportunity to give your feedback at the end of the workshop series at the end of the semester. The Global Pathways team will review student feedback every semester and may make necessary changes to the workshop agenda based on your input!
II. Immigration
What is a status letter? Should I get one?
Occasionally, you might be requested by a government or non-government agency in the U.S. to provide an official letter confirming your (F-1) student status in the U.S. Please note that your form I-20 is the most important official document in your possession that confirms your legal student status in the U.S. and, in most cases, will be sufficient. If it turns out to not be sufficient, the Global Pathways Office can issue a status letter upon request. If you have a reason to request one, please send an email to Global Pathways and allow 2-3 business days for processing.
What is an I-20 travel signature? When should I get one?
If you are in the U.S. in F-1 status, you need to have the third page of your form I-20 signed for travel before you plan to travel internationally after you have enrolled. Each travel signature is valid for one year, but we recommend you sign your form every 6 months if you plan to travel outside of the U.S. As long as you are in Pathways, you can get a travel signature at the Global Pathways Office, but please make sure you allow us at least one week before your planned date of departure or else you might have to change your travel plans. You do NOT need a travel signature if you plan to travel within the U.S.
What documents do I need to have in order to return to the U.S. after international travel?
You need to have a valid form I-20 signed for travel by a DSO (Designated School Official/ your immigration advisor in the Global Pathways Office) within the last 6 months, a valid F-1 visa, and a passport valid for at least 6 months into the future as of the date of your return to the U.S.
How do I renew my F-1 visa?
You only need to renew your F-1 visa IF you are planning to travel outside of the U.S. and your F-1 visa has expired or will expire while you are abroad. You should plan to renew your F-1 visa in the country of your permanent residence, at the U.S. embassy or consulate. Before you make your final travel plans, please contact the U.S. embassy or consulate at which you plan to renew your visa to make sure you understand the documentation and interview requirements, as well as the processing time, and can plan your trip accordingly.
I plan to travel abroad to a country other than my home country. What do I need to do? You need to find out if you need a visa to be able to enter the country of your destination. The best place to start is to visit the website of the embassy or consulate of the country you plan to visit to find out about their visa requirements applicable to you, as well as about documentation, interview, and processing time requirements.
I would like to invite my parent/s (other relatives) to visit me in the U.S. Can you provide an invitation letter?
No, we cannot, since you are the one who will be extending an invitation. In order to enter the U.S., your parents/relatives will need to contact the U.S. embassy/consulate in their home country and inquire about the application process to obtain a B-1/B-2 visa.
I would like to look for a job. What should I do?
Because of the nature and demands of the Pathways curriculum, our students are required to focus on their classes and postpone their employment until after their successful completion of Pathways. Once out of Pathways, F-1 students are immediately eligible for an on-campus job, although they need to wait to spend 2 semesters in full-time, matriculated status (after Pathways) in order to become eligible for an off-campus job via CPT/OPT. More information about off-campus employment will be offered through one of the academic workshops at the end of your final Pathways term.
What are the most important rules to follow to maintain F-1 student status?
Be enrolled full-time every semester (while in Pathways, we ensure that you are enrolled full-time), do not exceed the allowed number of absences in each class, do not accept employment without first consulting with your Pathways immigration advisor (and keep in mind the Pathways employment policy described above!), and make sufficient academic progress each semester to ensure you get to move to the next term of the program and, eventually, complete it.
III. Health Insurance
How do I get my Insurance ID Cards?
Insurance ID Cards are not automatically mailed out. Instead, students will receive an email notification at their Pace email address when the digital ID card is available to be downloaded from the "My Account" section at the United Health Care website.
ID Cards may also be accessed via the insurance mobile site.
If an insured student would like delivery of a permanent ID card through the mail, the student must make that request through the "My Account" section.
At the above websites, insured students have access to claims statuses, Explanations of Benefits, ID Cards, network providers, correspondence and coverage information. Insured students who have never set up their online account must select the "Create My Account Now" link. Follow the onscreen directions to establish an online account. Students should use their Pace email address to sign up for the first time. Later, they will receive their 7-digit Insurance ID number which they can also use to login.
(Insured students will receive the notification email to sign up for their online account about 24-48 hours after the insurance company receives the new student roster from the school. However, the student is actually covered even before that happens, even if the student has never before set up an online account.)
Where should I go first in case of a health emergency?
In case of emergency, students should go to their nearest hospital or health care location. If at all possible in a non-emergency situation, it is best for students to go first to Pace University's Health Care Center. If the student is in a non-emergency situation and not near Pace, they can also search for a care center which is covered by the student's insurance (use the "Search for Provider" function on the United Health Care Website).
The Pace University Health Care Center is able to provide students with basic care as well as to provide referrals if the student requires additional treatment. Pace's student insurance company works very closely with the Health Care Center. If the student did not sign up online yet to get their insurance card/ID number, the Health Center will call the insurance company to verify coverage.
The Health Care Center is located at 41 Park Row on the 3rd Floor and their telephone number is (212) 346-1600.
Is Health Insurance mandatory? / How do I waive Pace's insurance?
Health insurance is mandatory for all Pace University students. All students are automatically charged a fee for health insurance in their student bills.
Pace University will waive (remove or refund) the fee for Health Insurance only if the student demonstrates coverage under another insurance policy. If you apply for an insurance waiver, please be aware of the following:
Check your policy effective dates. You need annual coverage – the policy should be valid through August 2018
Does your plan provide inpatient hospitalization?
Does your plan cover outpatient clinic services, including doctor's visits, lab services and medical testing?
You will be responsible (in the majority of the cases) to pay up front for medical services provided in the U.S. It is then your responsibility to make a claim to be reimbursed by your insurance company.
You are responsible for payment for medical services which are not covered by your health insurance.
Pace University Health Care Unit may require payment at the time treatment is provided.
By signing a waiver form, the student acknowledges their understanding and acceptance that – in cases where a waiver of the Student Accident and Sickness Insurance premium charge for policies that do not cover Emergency Medical Evacuation and Repatriation of Remains – you alone, and not the University, will be solely and exclusively responsible for any and all such expenses.
When you complete the waiver form please return it to:
The Allen J. Flood Companies, Inc.
Two Madison Avenue
Larchmont, NY 10538
attn: Pace International Student Plan
Please include a copy of your other insurance policy in English and in U.S. dollars.
You can also email a copy of the waiver form and policy to pace@ajfusa.com.
*The deadline to submit a waiver application is typically 1 month after the first of classes each semester.
The expected turnaround time to process a waiver is 30 days; however, many times it takes much longer.
Whom should I contact with all other insurance-related questions (claims, etc)?
Angela French
Phone: 1-800-734-9326 x225
Email: afrench@ajfusa.com
How much does Pace's health insurance cost?
Annual (effective from August 15, 2017 to August 14, 2018) = $1,345.00 - International.
Get more information about health insurance waiver deadlines, and links to waiver forms and brochures.
Here's a useful video for international students explaining American health insurance!
Here's a useful video for international students explaining American health insurance!
IV. Miscellaneous
A. Holds
What is a "hold"?
A hold is a block on your student account which will prevent you from continuing in your classes if you do not resolve it. A hold can be put on your account for many different reasons (for example: if you did not hand in your immunization form, or if you did not give your final official transcripts from your previous schools to the admissions office).
Where do I view holds?
Visit the Pace Portal and login with your Pace username and password. Click on the Students tab, then the Registration, Grades and Tuition Schedule link. You can then click into Student Records where you will see a link to View Holds.
What do these holds mean?
When reading your holds, it will state which office put the hold on your account, and also the reason for the hold. For example, if you see a hold from "Graduate Admissions" with the reason "Diploma" – it means that the graduate admissions office is missing your official diploma. To remove the hold, you will need to give your official diploma to the admissions office (on the first floor of 1 Pace Plaza). Other common reasons for holds include missing final official transcripts from your previous schools, missing official TOEFL/IELTS/PTE/GMAT scores, and unpaid Pace bills. If you see an "Immunization Compliance" hold, it means you either did not turn in your immunization records, OR the records were incorrectly completed. To remove immunization compliance holds, you will need to speak with the Office of Student Assistance (OSA) on the first floor of 1 Pace Plaza. In general, if you have a question about a hold, please speak with the office which put the office on your account. The exception is if you see a hold with the reason "Global Pathways" or "Pathways." This hold is normal and does not need to be removed! ALL Pathways students have this hold.
What happens if I do not resolve my holds?
The most urgent hold to resolve is the "immunization compliance" hold – if this is not removed, you will be dropped from your classes around 5 weeks after the start of the semester. If you have any other unresolved holds, you will not be able to be registered for classes after the first semester.
B. Billing
How can I view and pay my bill?
Visit the Pace Portal and login with your Pace username and password. Click on the Students tab, then the Registration, Grades and Tuition Schedule link. You can view total term charges and payments by clicking on Account Summary By Term. The number under "Amount Due" is what needs to be paid. If the amount is not $0.00, then you still owe fees to Pace.
Image

You can pay your bill online by credit card by scrolling to the bottom of the page and selecting Pay Your Tuition and Fees Online.
Otherwise, you can pay in person to the Office of Student Assistance on the 1st floor (OSA).
I already paid my tuition but my bill says I still owe money! Why?
The 2nd page of your bill (viewed online through Pace Portal) has details of your charges. Please note that your tuition will be only one of multiple charges (see example below). If you already paid tuition but did not pay the other charges on your account, you will still owe fees to Pace. You should pay all remaining fees either online by credit card or in person to OSA on the 1st floor.
Sample bill:
Image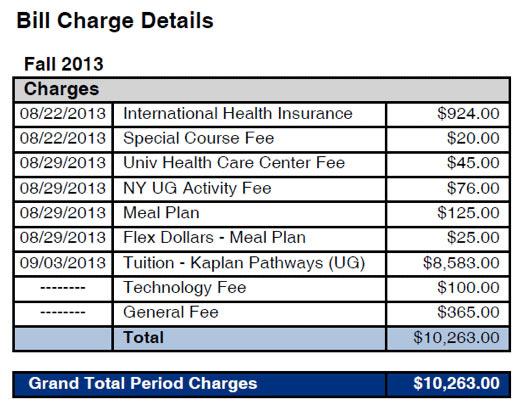 Please note: Different students have different charges depending on their level of study (graduate vs. undergraduate), program fees, dormitory, etc.—so you should not expect your bill to exactly match those of your friends!
C. Student Activities
How can I become involved with activities outside of classes? / How can I meet other international and American students?
Global Pathways Activities are led by Global Pathways staff and student assistants in collaboration with Pace International. These activities are a chance to socialize with other Pathways and Pace students, while having fun and exploring areas around New York! Usually the activities are either free or low-cost. Find out about upcoming Global Pathways/Pace International activities!
The International Buddy Program is another opportunity for Global Pathways students to connect with full-time Pace University students. Student mentors, or buddies, come from various backgrounds (some American, some international, and some Global Pathways alumni). Interested Global Pathways students will be matched up with one of the mentors who will meet with the students for activities, conversation, and general social and cultural support. For more information about this program, please email Sabrina Spanier.
We can also help students to book guided weekend trips led by a tour operator (American International Tours) to locations such as Philadelphia, Boston, Washington DC, Toronto/Niagara Falls, etc. Brochures with pricing information are located in the Global Pathways office. Students can book these tours by emailing Vivienne Beshay.
Pathways students are also encouraged to join Pace clubs and organizations. View a list of clubs and organizations.
Another great way for students to become involved with the Pace community is by attending events around campus. The Global Pathways Facebook page will promote events which may interest our students.
Students can also stay up to date on what's going on by visiting the Pace University Events page or the New York City SetterSync website (you will need to sign in with your Pace username and password)... Flyers for events are also regularly posted on bulletin boards around campus, as well as shown on hoverboards (TV screens) around campus.
D. Dining
I am being charged for a Meal Plan in my bill … is a meal plan required?
All full-time undergraduate students and students who live in Pace University housing are required to participate in a meal plan. The minimum plan charged to these students' accounts is $150.00 ($125.00 "Meal Plan" and $25.00 "Flex Dollars" - the Flex Dollar program enables students to use their Pace One Card at local restaurants near campus). You will be able to voluntarily add more value to your meal plan at any time during the semester by visiting Auxiliary Services on the 1st floor (next to the Office of Student Assistance).
I am interested in purchasing a meal plan / learning more about campus dining and Flex Dollars. Where do I go?
You can add money to a meal plan at any time by visiting Auxiliary Services on the 1st floor (next to the Office of Student Assistance).
E. Accommodation
We currently offer several accommodation options for Global Pathways students:
On-campus housing can be booked through our team, please email Global Pathways about this option.
Homestay, an opportunity to live with an American host family.
To learn more about these options, pricing, and the booking process, please email Global Pathways.
Get more information about short-term accommodation options in New York City (DOCX).