Semester Abroad Experiences 2018-2022
Brazil, France, Hong Kong, Italy, Portugal, and Spain
The Lubin School of Business, through a grant received from the Figueroa Family Fund, awards scholarships for Study Abroad opportunities. These scholarships are available to Lubin School of Business students who enroll in a semester-long study abroad experience. Those who are offered an award can expect to receive $3,000 per student for Study Abroad.
Spain - Kelsey Tulley '25
Kelsey Tulley, an undergraduate Human Resources Management major, was awarded $3,000 for semester study abroad at Comillas Pontifical University in Madrid, Spain for Fall 2022.
Image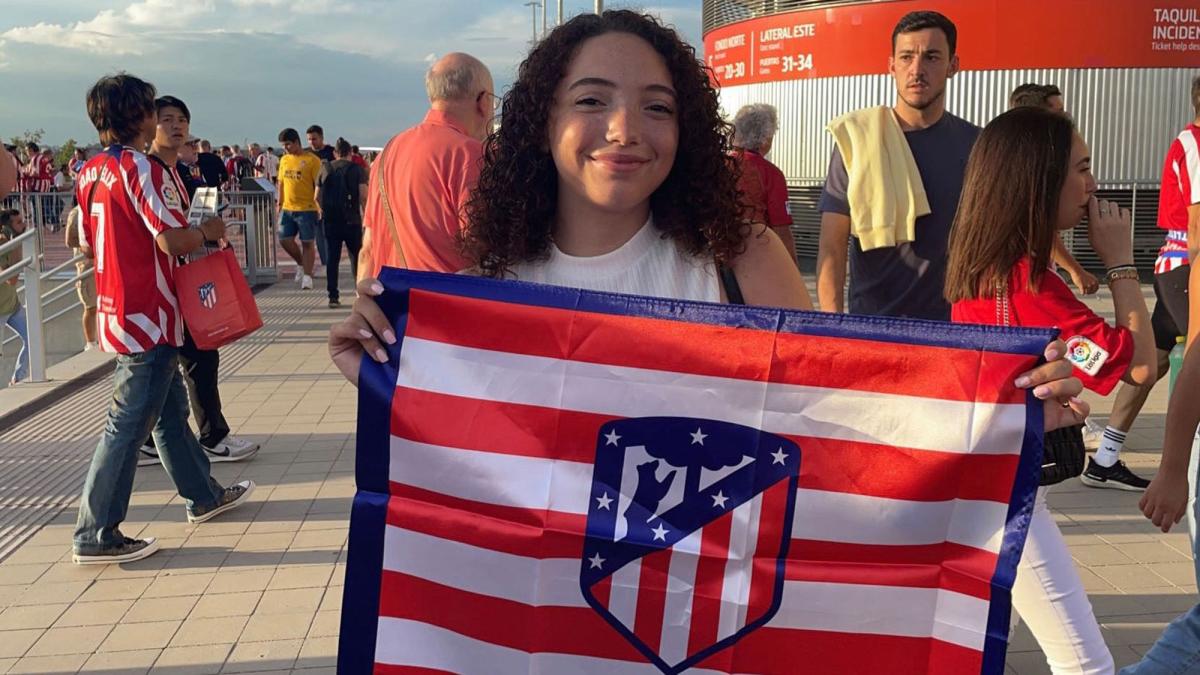 The Fall 2022 semester has led me on my best adventure so far: I studied abroad for four months at Comillas Pontifical University. This private university welcomes over 1,500 international students from over 600 universities and offers a close-knit community, very similar to Pace University, and has provided amazing professors and resources that are centric to an international education. For example, one professor teaches Negotiation Techniques where my assumptions of negotiating have changed. I had believed that the point of negotiations is to receive the best possible outcome for yourself or what you represent, when in fact I have been taught that the best negotiations create the most equitable outcome for all parties involved.
Beginning in high school, I knew study abroad would play a major factor in where I would attend college. Factors I looked for were a great business program, a Spanish language department, and extensive study abroad opportunities. Pace checked all these boxes three times over. When the Study Abroad office held their annual fair in the first few weeks of my freshman year, I made sure to attend every event. By the end of winter break, I was starting my application to the Madrid exchange program and meeting with advisors.
Attending school internationally has provided me with experiences and insights that have been so surreal. Through casual conversation or class discussions, I have heard the values of Europeans and other international students. I have been able to analyze these opinions that contrast to the commonly consumed media in the United States and uncover voices that I would likely never hear otherwise. Additionally, it is interesting to see how Americans are truly viewed in an international sense.
I have also grown so much as a person in Spain and befriended so many people from around the world and the US. I lived in an apartment with students from Chile, Austria, and North Carolina. These lifelong friendships are important and I am grateful for having these anchors -- constants during a time of such change and experimentalism. Throughout my four months in our shared flat, I received advice on applying for internships, growing my LinkedIn profile, and how to interview to the best of my ability. I have felt like a sponge absorbing the knowledge and experiences of the people I met from all over the world. Due to the generosity of the Figueroa Family and the Center for Global Business Program, my business school education has been incredibly enhanced by this opportunity.
Italy - Alexandra Godown '22
Image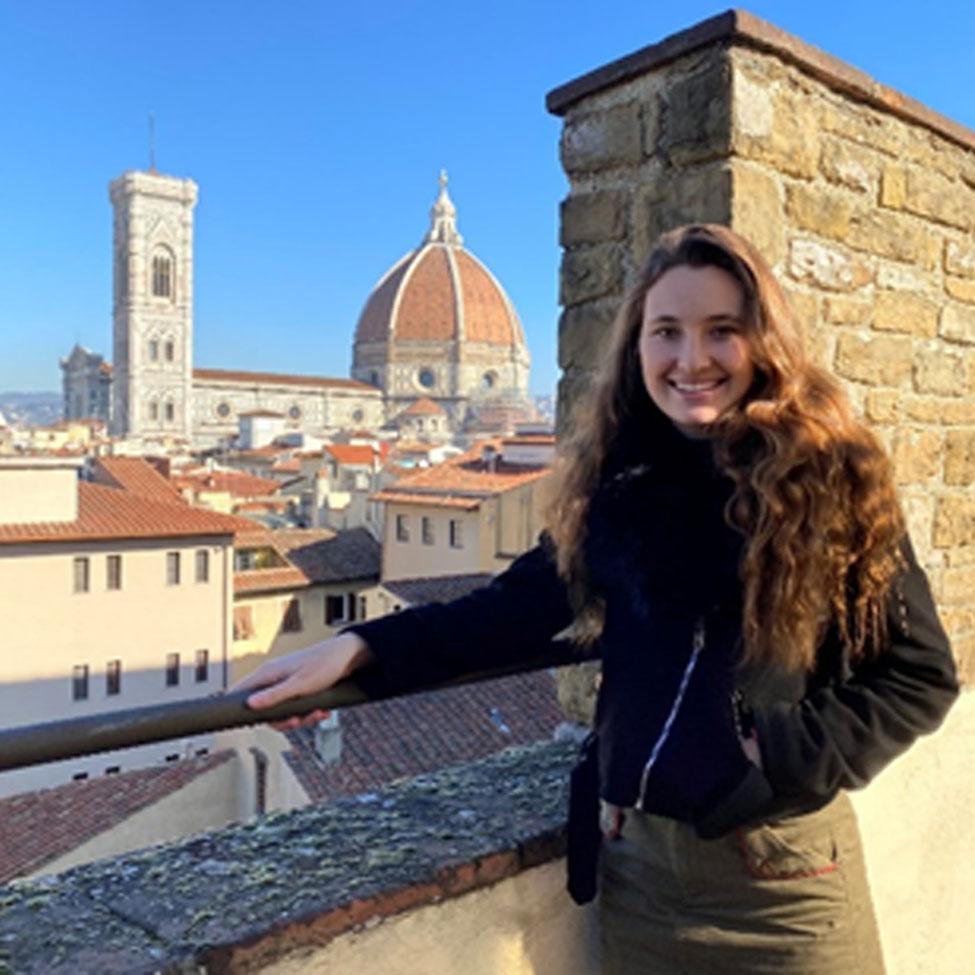 Alexandra Godown, an undergraduate Marketing major, was awarded $3,000 for semester study abroad at Lorenzo de' Medici Institute in Florence, Italy for Spring 2020.
Growing up in South Florida, I was born with the desire to live in different states and countries while traveling as much as I possibly could. Once enrolling in university, I immediately began researching study abroad opportunities. My second semester of my sophomore year I ventured to Florence, Italy and studied at the Instituto Lorenzo de' Medici where I had the experience of a lifetime.
I rented a beautiful loft in the fashion district of Florence and was living my dream. Classes began and I was taught by these incredible, worldly people from around the continent. Each professor was able to open my mind to an entirely different perspective on their respective subject. The semester was going extremely well up until Coronavirus began; I was shipped back to the United States and completed my coursework remotely.
My professors worked tirelessly to make sure we still benefited as much as possible from our courses. After the semester ended, my International Marketing professor reached out and asked if we would take a survey for a research project he was conducting centric on consumer behavior and Coronavirus -- I offered my assistance as an additional researcher. Mr. Lorenzelli and I worked on this research project from two different continents over four months. Working with a professional from a different country on an extremely impactful project was what truly made my experience in Italy impactful. He was able to show me how Italian consumers think and act based on culture, social standing, individual priorities, and so much more. Being a business major, it is crucial to have an understanding of not only the U.S. market, but the rest of the world as well.
My study abroad experience was incredibly formative and has given me an intended direction for my career path. Through the study we conducted, I have recognized my interest in consumer behavior and am extremely excited for this pursuit. In all, I am very thankful for the Figueroa Scholarship, it has changed my life.
France - Geanina Riley '21
Image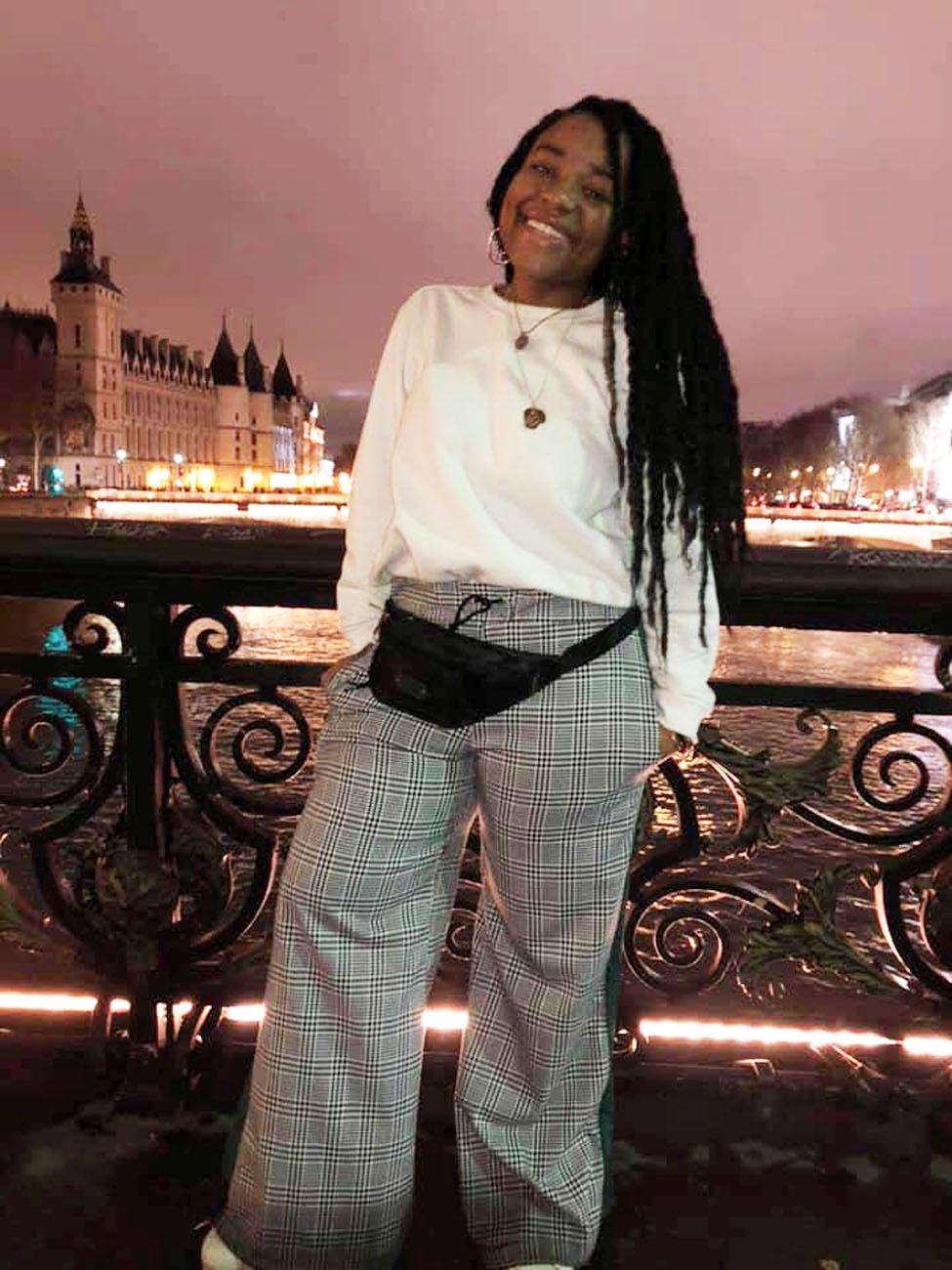 Geanina Riley, an Arts and Entertainment Management major, was awarded $3,000 for semester study abroad at CEFAM in Lyon, France for Spring 2019.
This past semester I had the opportunity to study abroad in Lyon, France. Lyon is a smaller city than Paris and is about two hours away by train. My time in Lyon was the most fulfilling happening I have ever had the opportunity to experience. I studied at CEFAM, which is an esteemed business school.
At the core of business education and training, is organizational behavior (OB), which is also the title of a class I took while studying in Lyon. OB is the study of the components that make up a business. We studied inputs such as, people, motivation, and values. We then continued with processes and outputs. I begin this essay with that declaration to then explain how studying abroad advanced my business education.
Studying in Lyon allowed me to begin practicing business with a global perspective. I studied in courses with students hailing from Azerbaijan to Russia. Each student possessed different perspectives and brought new elements to the courses that I, otherwise, would not have gotten studying in the United States. Organizational Behavior spends a large majority of the time discussing people. Studying abroad is also all about the people one encounters. My time in Lyon enhanced my business education because of the people I was able to collaborate with. Communication is a soft skill vital to a successful business career, skill only acquired through practice.
Image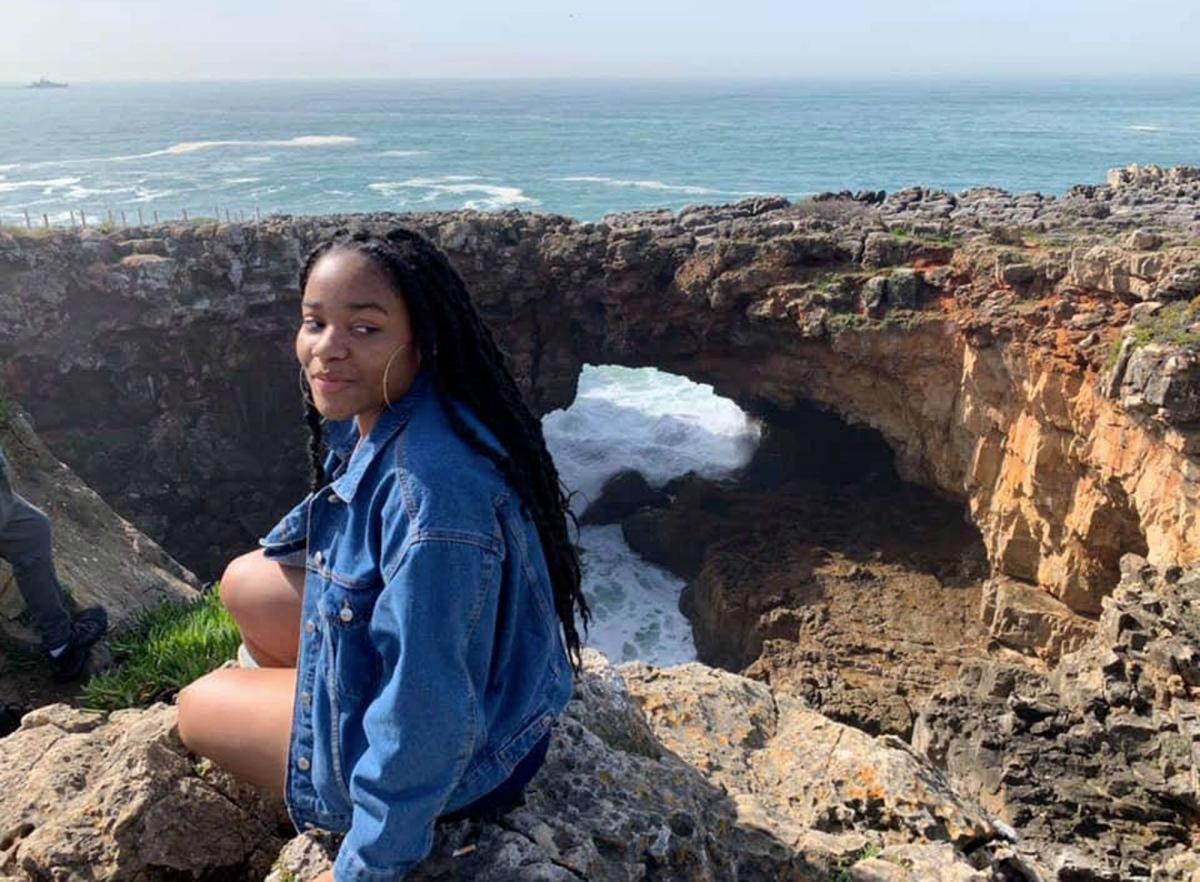 Another way in which my business education was enhanced was through a change in practice. CEFAM educates students in smaller classrooms and my business classes had guest lecturers multiples times throughout the year. These lecturers were mandatory and the speakers were American, yet had global business experience. They spoke to all of the students, French, American, and other, and provided guidance and insight only attained through travel.
France - Jamie Mathurin '21
Jamie Mathurin, a Finance and Economics major, was awarded $3,000 for semester study abroad in Paris, France for Spring 2019.
Image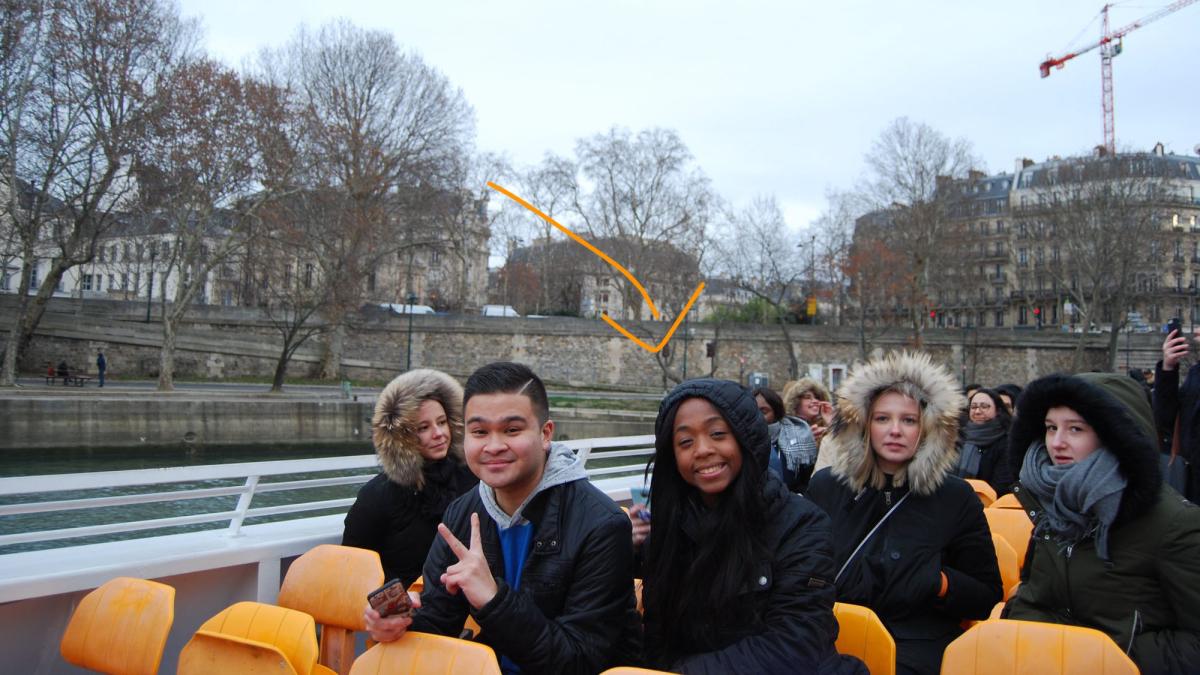 The past four months in Paris, France were amongst some of the most exciting in my life. I learned so much, not only about myself, but about the way the world works. Because I took several finance classes with many international students, I learned a lot about business around the world and about various financial training platforms available for students, regardless of one's origins. It's interesting that no matter where each of us comes from, the financial ratios and concepts are the same. We are all looking to learn as much as possible, in hopes of advancing our knowledge regarding finance.
The students I studied with encouraged me to push myself to do things I normally wouldn't. After hearing about various financial simulations available for students at my school abroad, I signed up for classes which trained me in a variety of technical skills, such as financial modeling. As a result, I now feel more prepared as I begin my summer internship. I was able to improve my analytical skills. I also learned transferrable, valuable skills that will help me to be a great student next semester.
I can say that I have 100% enhanced my business school education. The classes I took in France were unique, and I now feel more comfortable speaking about the role of Financial Services industry in general. I even feel comfortable speaking about the role the Financial Services in France. In fact, I hope to apply to be a peer tutor in Corporate Finance. It was amazing to have a new perspective on Finance while studying in France. I learned so much. There were even a few concepts that my French professors clarified for me. Overall, I am really happy that I went to France and am so grateful for the opportunity because I learned a lot and enhanced my business school application.
Hong Kong - Brandon Morales '21
Brandon Morales, a Finance and Economics major, was awarded $3,000 for semester study abroad at Hong Kong Baptist University in Kowloon Tong, Hong Kong for Fall 2018.
Image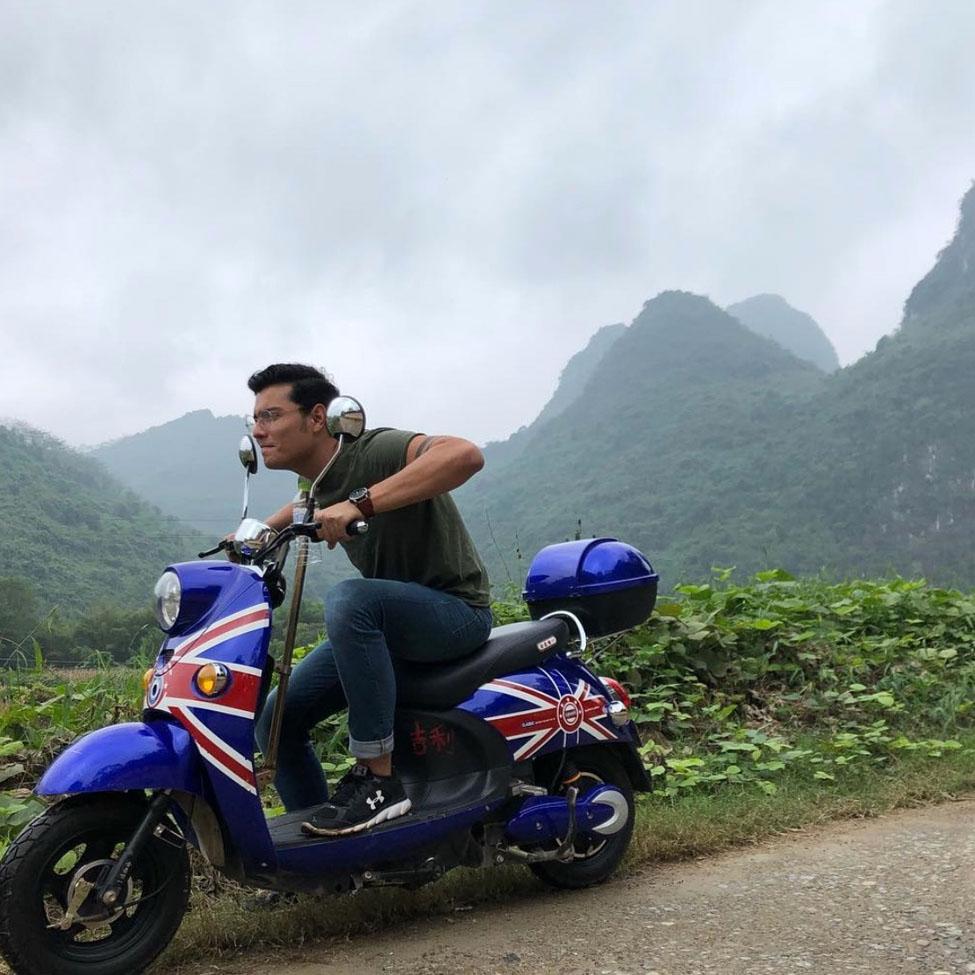 Studying abroad in Hong Kong has to be one of the best experiences in my life and has really enhanced several aspects of it for the better. As a business student I really appreciated how business oriented my school was and got to see just how different certain things are done in a different culture. Knowing differences of how business is done is a huge advantage. I sought every opportunity I had to pursue the knowledge and information of why and how things are different in business and education internationally.
Studying abroad is an invaluable experience to learn as much as you can about another culture and what similarities it has with my own. For example, the student perspective on work culture is very similar to New York, a very aggressive one with students wanting to get jobs in their field as quick as they can with no hesitation. But how students get there is a little different than American work habits. Students in Hong Kong study with no rest until what they're working on is done, blocking off social interaction besides when needed for work reasons, studying in the late hours the night with the chance of little sleep. As for New York business students, we thrive under social ability and focus on keeping our connections while treating working hard on courses and jobs as a given, not letting it get in the way of our social interactions. Knowing these differences help when interacting with other students, professors and potential business colleagues.
It is always said in business the connections are key to getting anywhere you want. Not only did I make a considerable amount of friends and acquaintances, but I made business connections. One example would be my professor, Dr. Man Ko, the senior lecturer and internship program coordinator of the department for accounting and law. He knew of 40 different positions needed to be filled for interns and full time workers and was very persistent on trying to help any student he knew to get a job. I almost wanted to stay in the country instead of go back, to take advantage of this opportunity of having someone who would do that for me in the Hong Kong job market. It's connections like these that could make all the difference in my future.
In summary studying abroad was a trip that was not just for the experience of being in a different country, but also widening my perspective on the world and how I could personally effect it with my career and interests. While in Hong Kong, I was able to go to 4 different other countries--China, Singapore, Thailand, and Macau--to learn and experience even more cultures other than Hong Kong! There really is nothing like being able to compare so many different ways of life and being able to integrate it into my career and personal life.
Brazil - Brian Maxwell '19
Brian Maxwell, a Finance and Economics major, was awarded $3,000 for semester study abroad at Universidade Federal de Santa Catarina in Florianopolis, Brazil for Spring 2018.
Image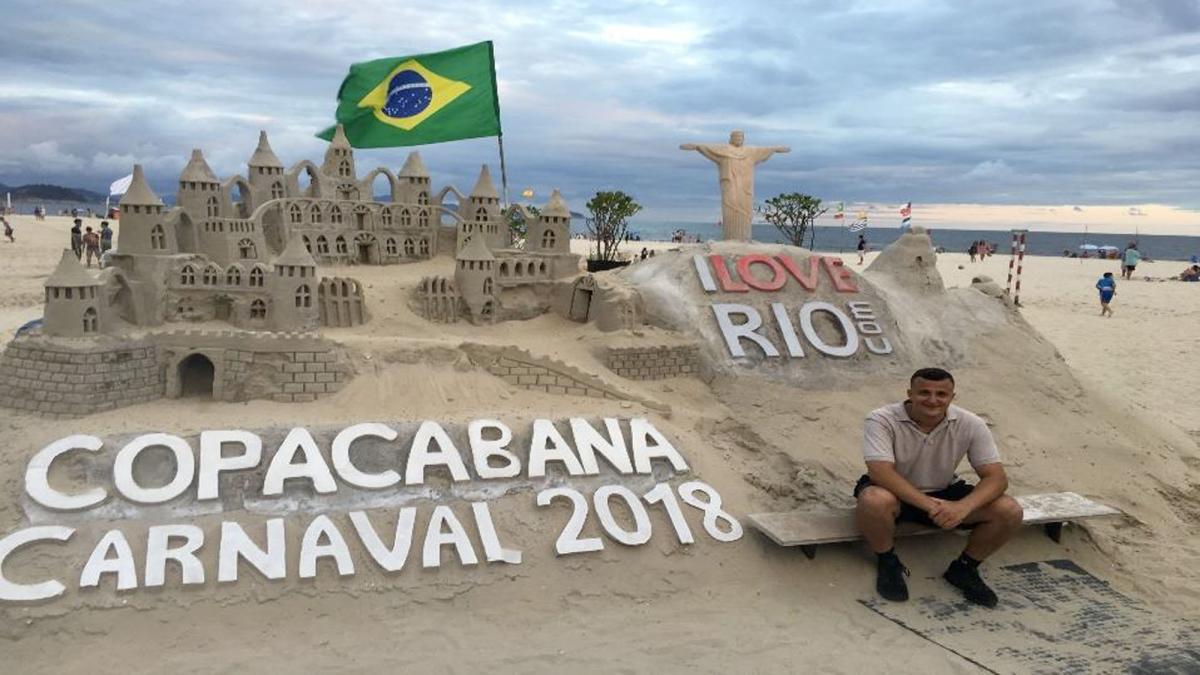 My name is Brian Maxwell, and over spring 2018 I completed a study abroad program conducted with the Universities Studies Abroad Consortium (USAC). The USAC organization was phenomenal assisting me with the transition leading up to the study abroad, as well as the staff in Florianópolis that was there to help during the semester. The semester abroad for me was one of the most amazing experiences I've ever had in my life and something that I am incredibly grateful for. I was able to learn so much, and it is my privilege to share my experiences and how it has enhanced my business school education.
My main goals going into the study abroad in Brazil was to learn as much Portuguese as I could, and to learn more the culture and lifestyle. I was inspired to apply after participating in a finance field study course that took place in Brazil a year prior. I started learning Portuguese on my own by taking private classes in NYC. The semester in Brazil accelerated my learning, as I had no shortage of being able to practice my language skills. Learning a foreign language was certainly the most challenging thing for me during the semester. It became very frustrating at times for me to not always be able to effectively communicate to locals. It never felt on any particular day that I was making huge amounts of progress, but after months of living in Brazil I realized how much progress I was indeed making and how much I had learned.
Brazil is full of amazing people who are very much driven with energy and humor. The country has many scenic beaches and landscapes, as well as a big contrast in many customs from the U.S. I was able to see many of the most iconic landscapes such as Iguaçu Falls, which is on the border of Brazil and Argentina. I also participated in a four-day tour of Minas Gerais with some of my classmates, and some of the historic cities, such as Ouro Preto. We hiked and toured a historic gold mine, visited historic catholic churches, went horseback riding, and ate at some of the best-known places that serve authentic Brazilian cuisine.
Currently I am pursuing something in the Wealth/ Asset Management field either in New York or the Miami area. The knowledge and experience I have in Portuguese will help me going forward stand out and be competitive in this field as there are particularly a lot of Brazilians in the New York and South Florida areas. If given the opportunity in the future to work abroad in Brazil for a multinational firm, I would certainly be very open to pursuing this. Thank you so much again for the Figueroa Scholarship award.
Portugal - Kristina Noreikaite '20
Kristina Noreikaite, an undergraduate Accounting and Quantitative Business Analytics major, was awarded $3,000 for semester study abroad at NOVA School of Business and Economics in Lisbon, Portugal for Spring 2018.
Image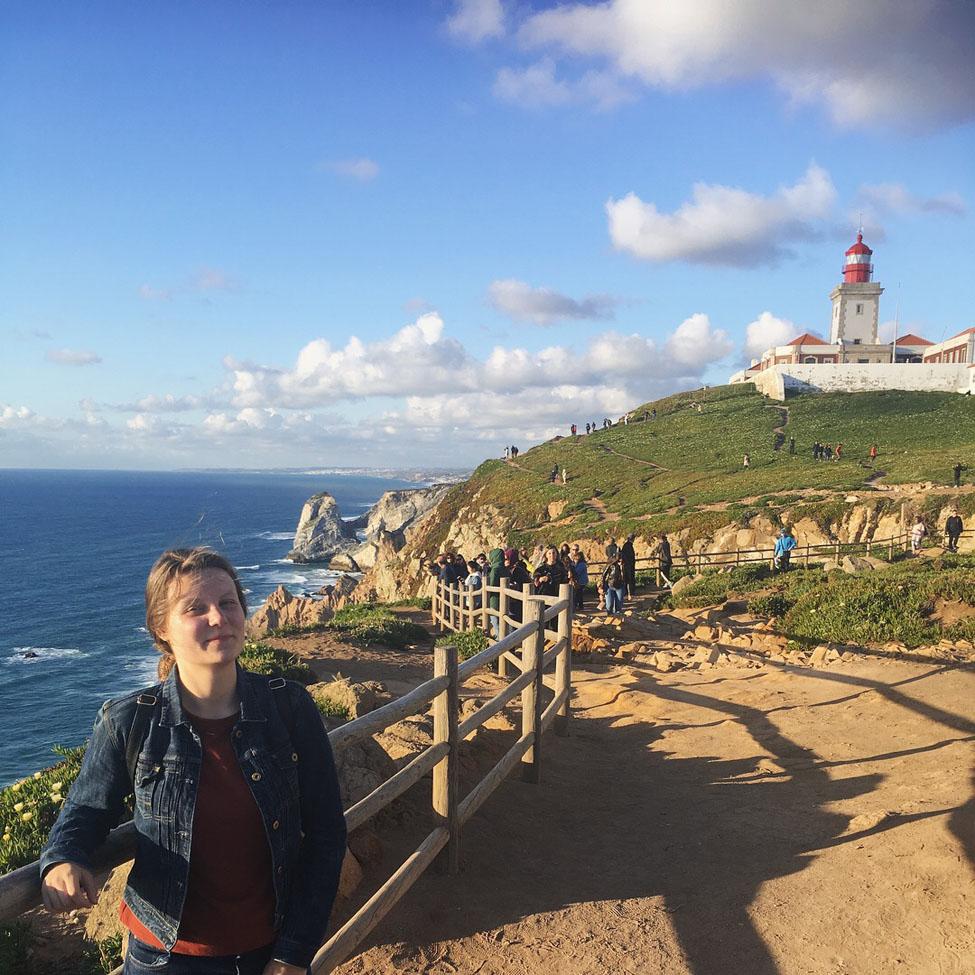 I was lucky to get an opportunity to study abroad in Lisbon, Portugal. Having been working and studying a lot in New York, I was excited to have a change in scenery and explore new places. I can say that I've learned many things not only academically, but also culturally.
Academically, business courses at NOVA involved a lot of group work, which taught me to communicate and compromise more. A lot of work was done with students who were a mix of exchange students and locals; this gave me experience in adapting in a diverse environment, developing a new mindset, as well as new leadership skills that could be used when working with different cultures. Furthermore, the projects at NOVA were very professional: one of the projects included working with a real bank in Portugal. The assignment gave me real life practice, an opportunity to gain experience, and meet professionals who inspired me to look into various career options in business.
Culturally, during my five-month stay I learned more about how people interact in Portugal. While the locals are extremely warm people who will always greet with a kiss on each cheek, people are less punctual or straight forward. This means that a meeting at 3pm might actually mean it will start an hour later. Though it took me some time to adapt to such standards, I realized that this was not intentional at all. Not being punctual is not due to the fact that people are busy or that they don't want to meet; it simply shows that this society is a lot more relaxed about their schedules, whether it is professional or not.
It surprised me that a lot of students in the university were either international or coming for a study abroad semester. Students chose Lisbon as a perfect place to come study, but also have time to explore the beautiful nature. Also, every full-time student at NOVA is required to go on at least one semester of study abroad, which I found very different from most US schools. People were more culturally acknowledged about other places and were eager to go abroad. This presented a more open life outlook in the students. I trust that an exchange will open new opportunities and should be done by many more students globally.
"Exchange is not a year in a life, but life in a year." I am very grateful from the experience. The time spent in Portugal gave me a more global outlook in business. Such an experience is a fundamental tool to broadening one's knowledge and skills. I think it will be significant in my education in the upcoming year.
Italy - Olena Hauser '20
Olena Hauser, an undergraduate International Business major, was awarded $3,000 for semester study abroad at John Cabot University in Rome, Italy for Spring 2018.
Image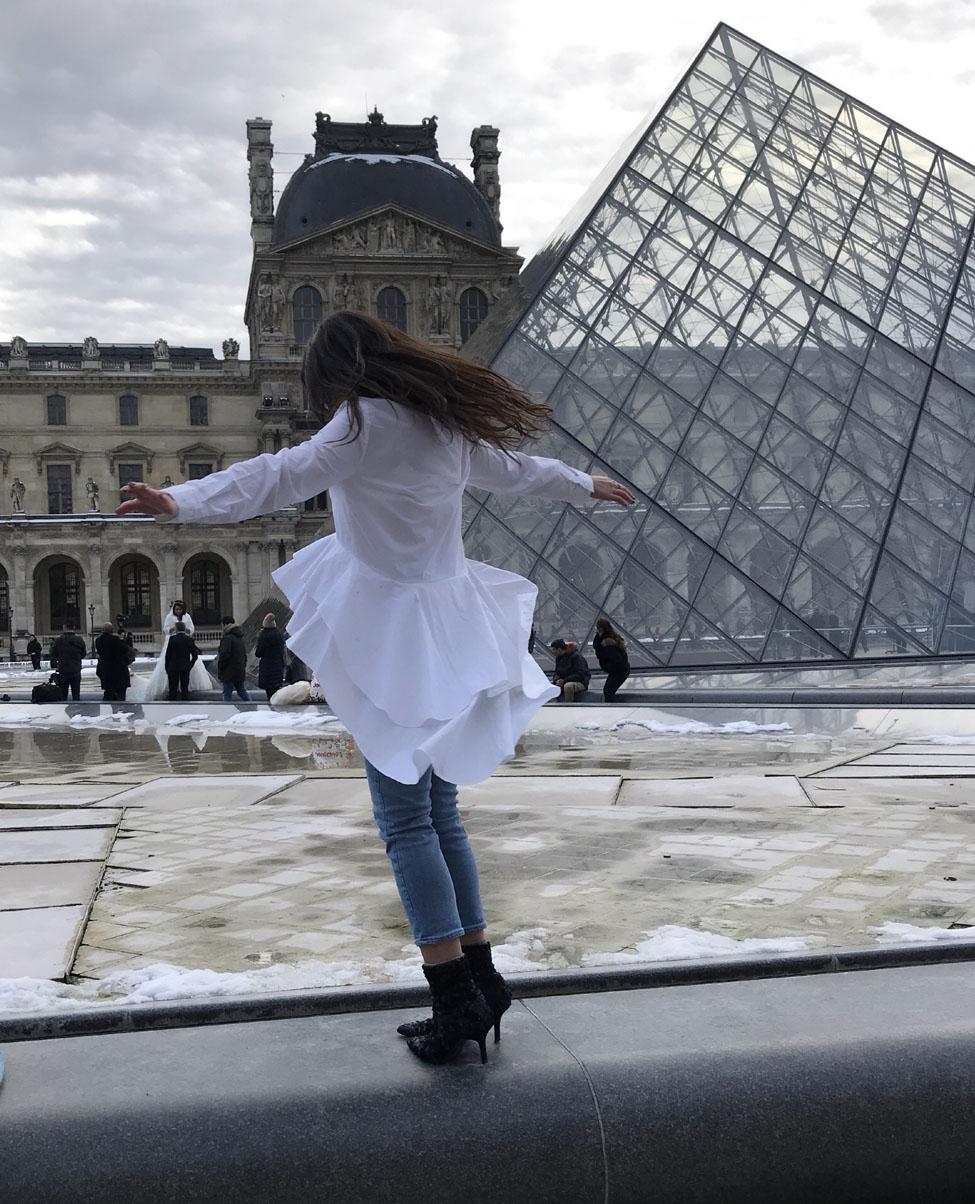 Four countries, 24 cities and 116 days of everlasting spontaneity, adventurousness, friendships, memories, but most importantly the enriching self-growth and realization, is a tiny depiction of my semester abroad at John Cabot University. The minute I touched down, I felt strangely at home. I lived in an apartment with eight other girls, in a very safe, beautiful location. I immediately unpacked, and as predicted, rushed to grab my first slice of miraculous Italian pizza, followed by a quick stop to the Gelato Shop. Without the help of a map or navigation I stumbled upon some of the most famous landmarks of Rome, including Piazza di Spagna, Fontana di Trevi and the Colloseo. One of the highlights of my stay was attending a Holy Mass with Pope Francis for two consecutive Sundays at the Saint Peter's Basilica in the Vatican for both, Palm Sunday and Easter along with my family who were visiting me.
When in Rome, I quickly adopted to the local lifestyle. For many foreign students, traveling was an enormous component of the study abroad experience. However, I refused to travel to multiple places at one; rather, I chose one location at a time which I could truly explore and adore its beauty. I was in the midst of cultures that emphasized different values, history, art and development other than my own. I learned how to be a part of a diverse crowd, other than what I am used to.
I enrolled in five business courses that I very much enjoyed, which included Financial Accounting, International Business Law and Organizational Behavior, and eagerly attending my Italian class which allowed me to greatly excel in my language skills, comprehension and self-confidence when conversing. It was difficult, yet beautiful, to have to rely on a language that is not the one you are most comfortable with. I developed an extreme interest in International Business Law while at John Cabot and begun thinking about attending Law School after graduating from the Lubin School of Business. I am fascinated with Regulating Import Competition and Unfair Trade, Legal Issues in International Transportation and Bank Collections, Trade Finance, and Letters of Credits. I had a privilege of visiting the Supreme Court in Rome, the Palace of Justice and sitting in on a hearing of an open case. The professors at John Cabot University were very intelligent, accommodating and eager to teach. I want to assure you with the absolute delight and my deepest gratitude of the difference the Figueroa Family Fund Scholarship has made in my collegiate career.
Image