Pace Education Abroad prioritizes the health and safety of our students, faculty, and staff. Studying and traveling abroad requires many of the same health and safety precautions that one would take in the U.S.A. However, participants need to be aware of additional risks that may be unique to traveling abroad and living in a particular country or region.
Pace Education Abroad monitors international security and maintains regular communication with in-country faculty leaders, partner institutions, and program providers. In the event of an emergency, Pace will work swiftly to identify the location of program participants and immediately initiate communication with the necessary parties, taking action as the situation warrants.
COVID-19 Considerations and International Travel
Read through Pace's international travel policy with regards to COVID-19, which details the potential health-related, financial, and academic risks to consider related to study abroad at this time.
Mandatory Pre-departure Orientation
All Pace students going abroad — whether on a faculty-led program, a short program, or a semester program — are required to attend a pre-departure orientation held at Pace. The orientation is conducted by staff from Pace Education Abroad and Safety. It stresses health and safety abroad, as well as cultural adjustment, insurance coverage, student identity, and other topics. (It also covers Pace academic policies and procedures such as enrollment and credits.)
Title IX, Sexual Assault, & Sexual Harassment Abroad
Cultural and social attitudes toward sex, sexual harassment, and sexual assault vary greatly in different countries. However, respecting and adapting to cultural difference while studying and traveling abroad does not mean that you need to submit to behaviors that invade your personal boundaries or make you feel unsafe or uncomfortable. Educating yourself about sexual harassment, violence, and gender dynamics abroad can empower you to make safer choices.
Read more about Title IX while abroad, educating yourself in advance of your program, and what to do and who to contact if you have been assaulted or harassed while abroad.
Get the PACE SAFE App!​
Image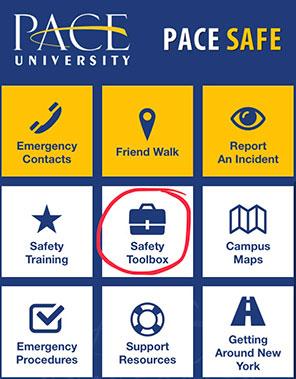 Download the free PACE SAFE app. There's a feature on the app that's dedicated to travel abroad, where you can:
​find the protocol for contacting Pace University should you have an incident to report and need help
obtain travel tips and info on traveler's health
get alerts and travel advisories (including weather advisories)
enroll in the U.S. State Department's Smart Traveller Program (STEP)
access Mobile Passport (for easy re-entry back to the USA)
How to find it:
download the free "PACE SAFE" app
​sign in
from the main menu, go to "Safety Toolbox", then chose "Travel Safe"
access the features!
For Students — in Case of Emergency While Studying Abroad
First contact the on-site Resident Director, other in-country program staff, or Pace Faculty (for Faculty-Led Programs abroad). These people are all in-country and will be best able to assist you at the moment of need.
Call Pace Security (staffed 24/7) and you will be re-routed to Education Abroad or other Pace University staff: +1 (212) 346-1800.
In case of a medical emergency abroad, students should call the insurance provider, AXA 24/7 Travel Assistance Services (+1 (855) 327-1425), before seeking medical assistance because AXA will help them locate a qualified health care provider, make appointments, and pay for services abroad — making it a cashless process for students (rather than seeking reimbursement after the fact). Here is a full description of the International Travel Insurance policy (PDF) and a quick snapshot of the benefits (PDF). Read more about the insurance coverage.
Contact the U.S. Embassy or Consulate in the country you're visiting.
Strategies for Remaining Vigilant While Studying Abroad
Trust your instincts and remain alert to your surroundings! Remove yourself from a situation if you feel at risk.
Keep your cell phone charged and with you at all times.
Learn the in-country 911-equivalent emergency number(s) of your host country.
Keep important phone numbers in your phone, in your photos, and in your email (in case you lose access to your phone): on-site program staff, Pace faculty leader, Pace security, and the in-country 911-equivalent emergency numbers.
Be aware of, and adhere to, local laws. Understand what activities are culturally and legally appropriate.
Appropriate use of alcohol is shaped by local laws, cultural norms, individual program regulations, and safety considerations. Alcohol consumption is a major factor in many of the injuries, assaults, and thefts that might be experienced by students on study abroad programs. Excessive drinking can be disruptive to your program and have a negative impact on your experience (and those around you). Before departure, research the drinking culture in the country you're studying in. Finally, your consumption of alcohol (or another drug), and/or your behavior while under the influence, might lead to a violation of local laws in addition to program and Pace University conduct codes.
Stay away from high-crime areas.
Don't travel alone — especially if you're unfamiliar with the area.
Ensure that you and your friends always have a plan for a safe way to get back to your accommodations.
Stay informed about current events in your host country. Learn to assess unfamiliar situations and possible risks in your new environment.
When traveling away from your program site, make sure that your program staff and family are informed about where you're going and when you're expected to return.
Avoid demonstrations, protests, and crowds of people. If you find yourself caught up in one, stay as far from the center of activity as you can. Maintain situational awareness and always know where your exits are! (Do not stay and document the event with your phone or camera!)