Active Learning Classrooms offer tools and flexible layouts to support lively discussion, multimedia, group work, and presentations while allowing students to work using their laptops and mobile devices at the same time. Pace currently has six ALC's along with plans for the Classroom Design Committee to expand and create more in the future together with Building Services and Ed Media.
ALC Locations
New York City: W510 and W511
Pleasantville: Miller 21, 22, and 27
Pleasantville: Willcox Lecture Hall
Eligibility
All active Faculty teaching a face-to-face course.
How To Get This Service
ALC's can be reserved as the primary meeting space for a face-to-face course. ALC's cannot be reserved for single presentations or events, however faculty can reach out to Ed Media to schedule an appointment to see the rooms and receive training on how to use the equipment.
Ideally, faculty should submit their request as early as possible for these rooms. For more information, contact Academic Scheduling. Alternatively, you can also reserve an ALC by emailing academicscheduling@pace.edu or by directly calling (212) 346-1626.
Support
Educational Media Hours
New York Campus - E312
Department Phone: (212) 346-1583
Monday - Thursday: 8:00 a.m.–8:00 p.m.
Monday - Thursday: 8:00 a.m.–8:00 p.m.
Monday - Thursday: 8:00 a.m.–8:00 p.m.
Pleasantville Campus - Miller Hall 31
Department Phone: (914) 773-3338
Friday: 9:00 a.m.–5:00 p.m.
Friday: 9:00 a.m.–5:00 p.m.
Friday: 9:00 a.m.–5:00 p.m.
White Plains Campus - Aloysia Hall 303
Department Phone: (914)422-4060
Saturday: 9:00 a.m.–5:00 p.m. (excluding summer)
Intercession and non-class periods: 9:00 a.m.–5:00 p.m.
Learn More
FAQ
Can I schedule a one-time session to use an ALC for an event or single class session?
ALC's are booked in advance as the primary meeting space for courses throughout the full semester. You can inquire with Academic Scheduling at academicscheduling@pace.edu for special requests.
Does the room have audio speakers connected to the computer?
Yes, the room speakers are hidden in the ceiling but provide full audio for occupants in the room. Students can also feed audio to the speaker system by using an HDMI cable to connect their personal laptops to the classroom monitors.
Do all of the occupants in the room appear in the webcam's view?
Yes, the wall-mounted webcam installed in the room provides a wide angle view of the entire room. Discrete microphones attached to the ceiling can capture voices clearly from around the room. This setup is ideal for a guest speaker presenting to the class remotely, or for individual viewers to participate from home. If your goal is to connect two physical classrooms via web conferencing, please consider one of our Video Conferencing rooms built specifically for this purpose.
Pleasantville MILLER 21 & 22
New York City CIVIC 510 & 511
Image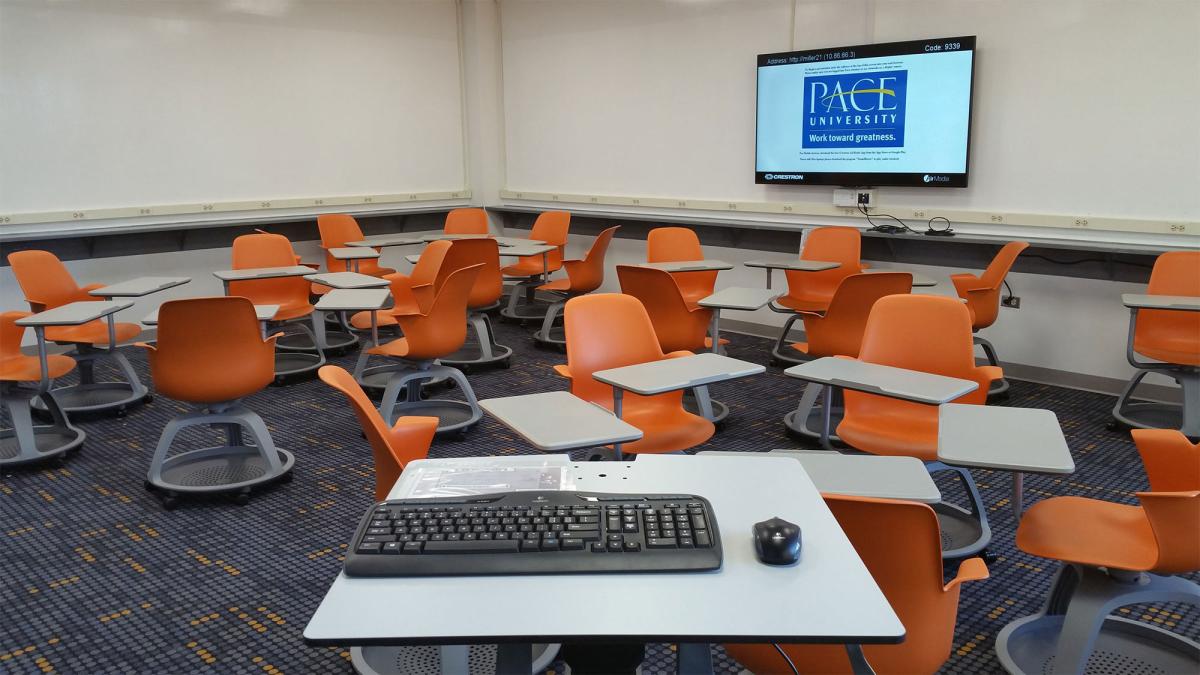 Announcing New Active Learning Classrooms
Available Now
What is an Active Learning Classroom?
An ALC is designed to provide you with the tools to support:
Multimedia
Group Work
Video Conferencing
Presentations
...while offering the flexibility of allowing students to work using their laptops and mobile devices.
AND
3 Adjustable Flat Screen Displays Per Room
Image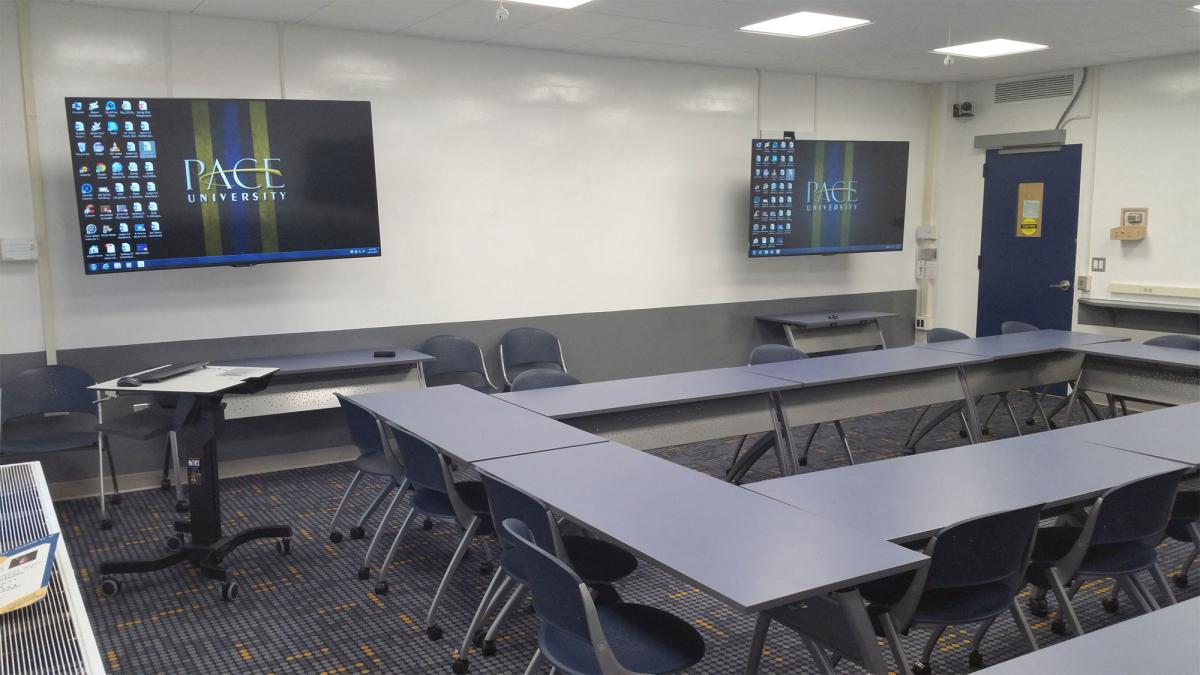 Mobile Instructor Podium
Mobile Instructor Podium offers wireless connectivity to classroom computer.
Displays can be used individually by breakout groups or show a single image on all three
Image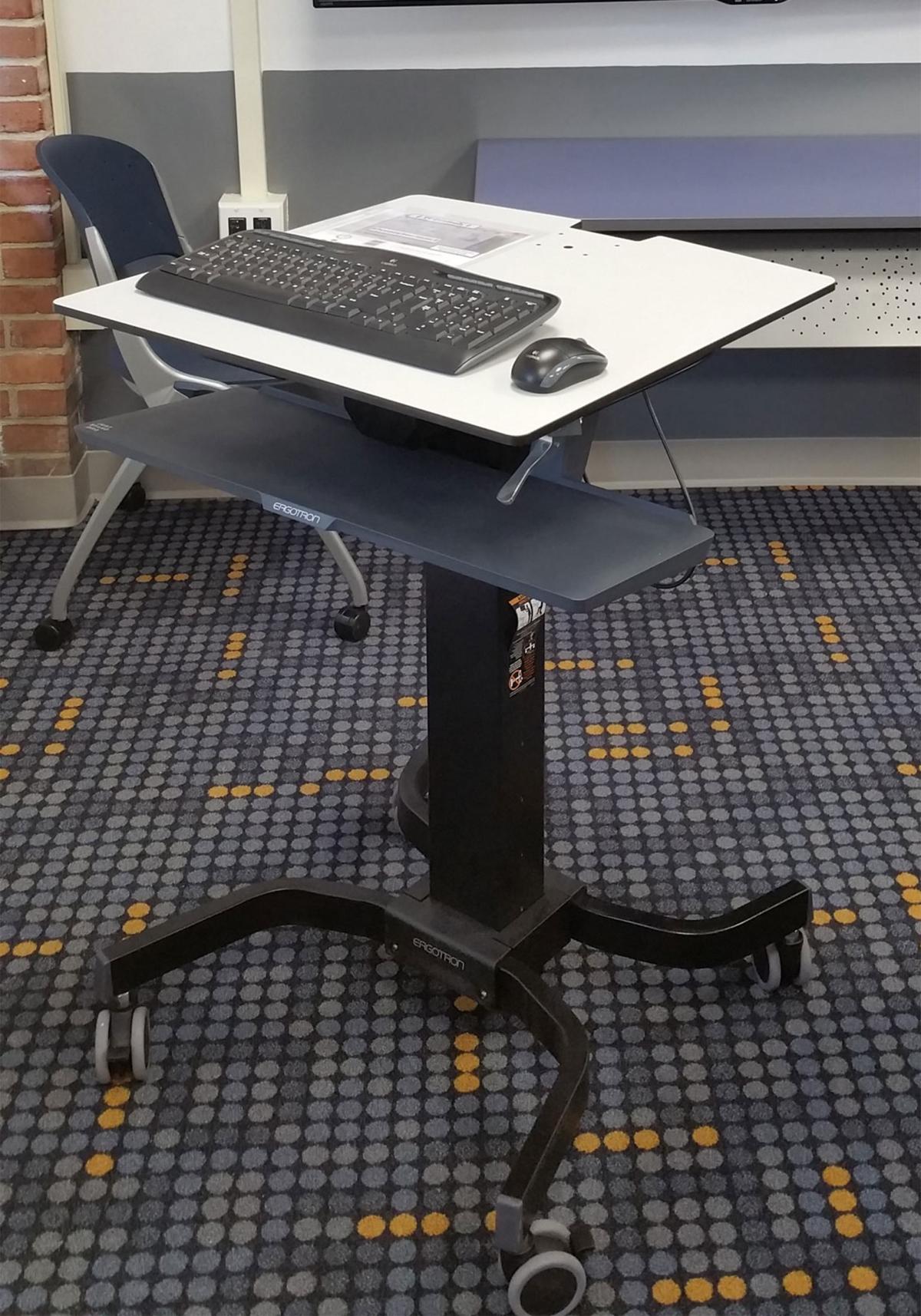 Smart Chairs
Rollable smart chairs can be arranged for class discussion or breakout groups and provide surface area for a laptop.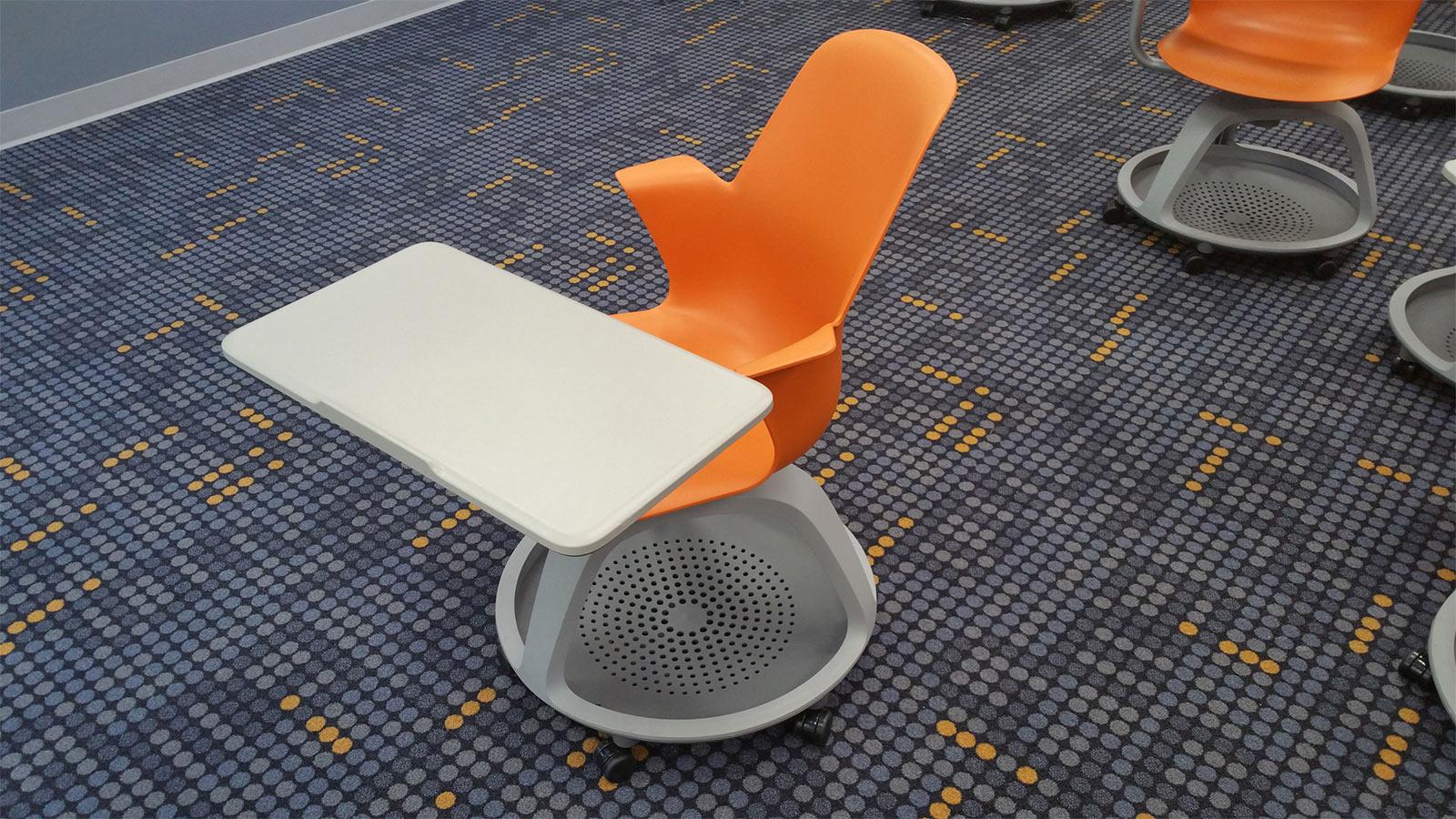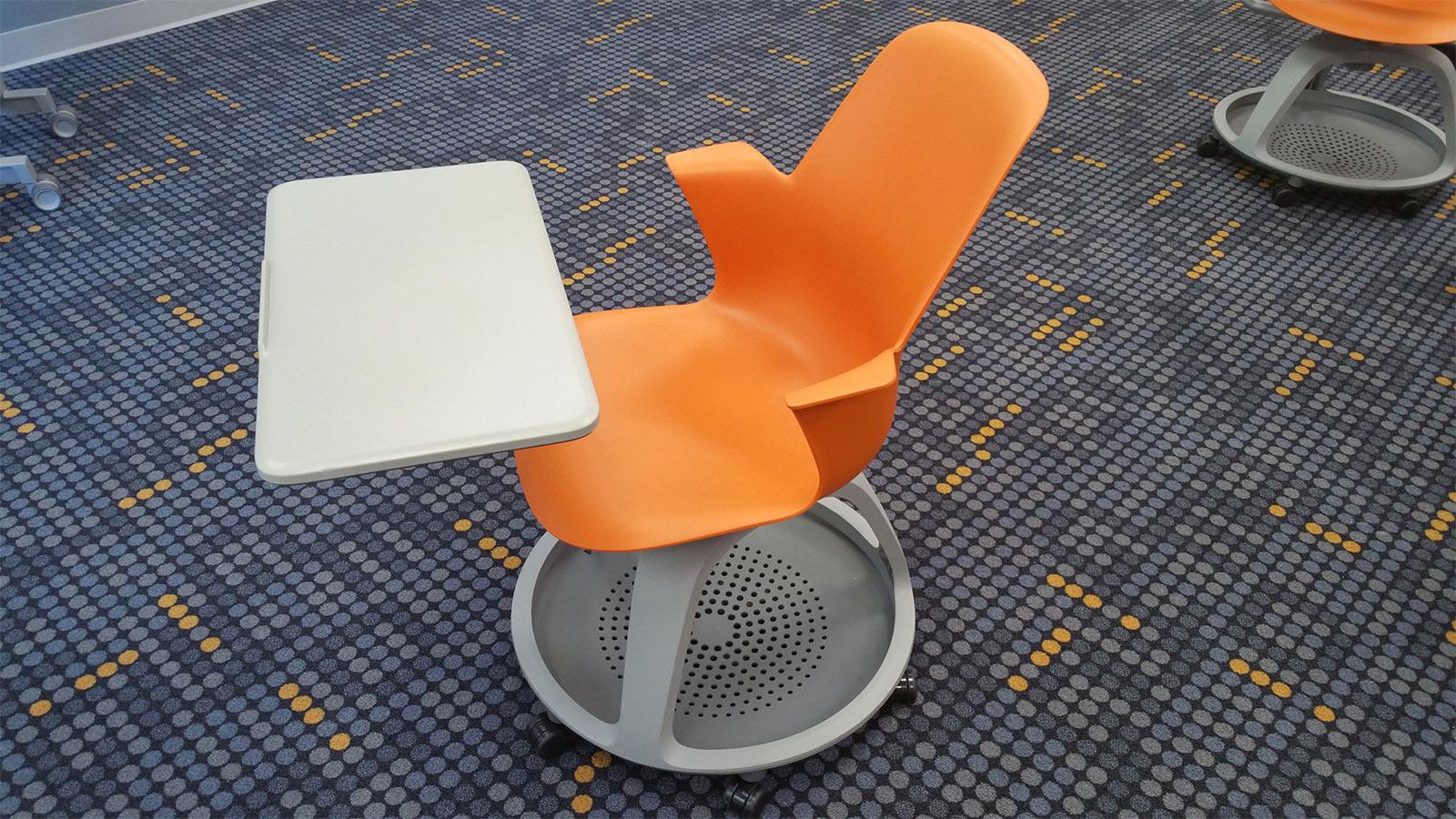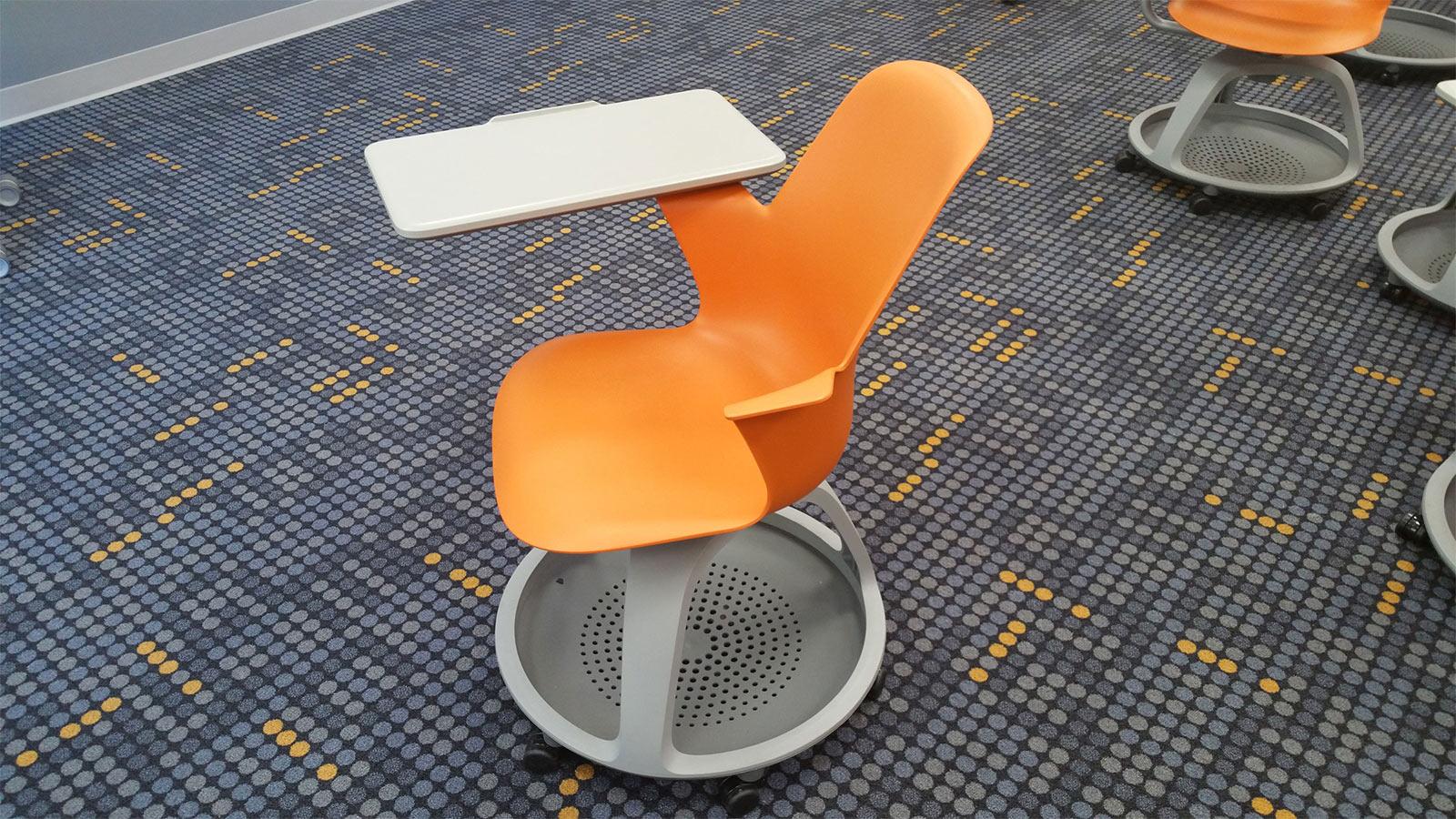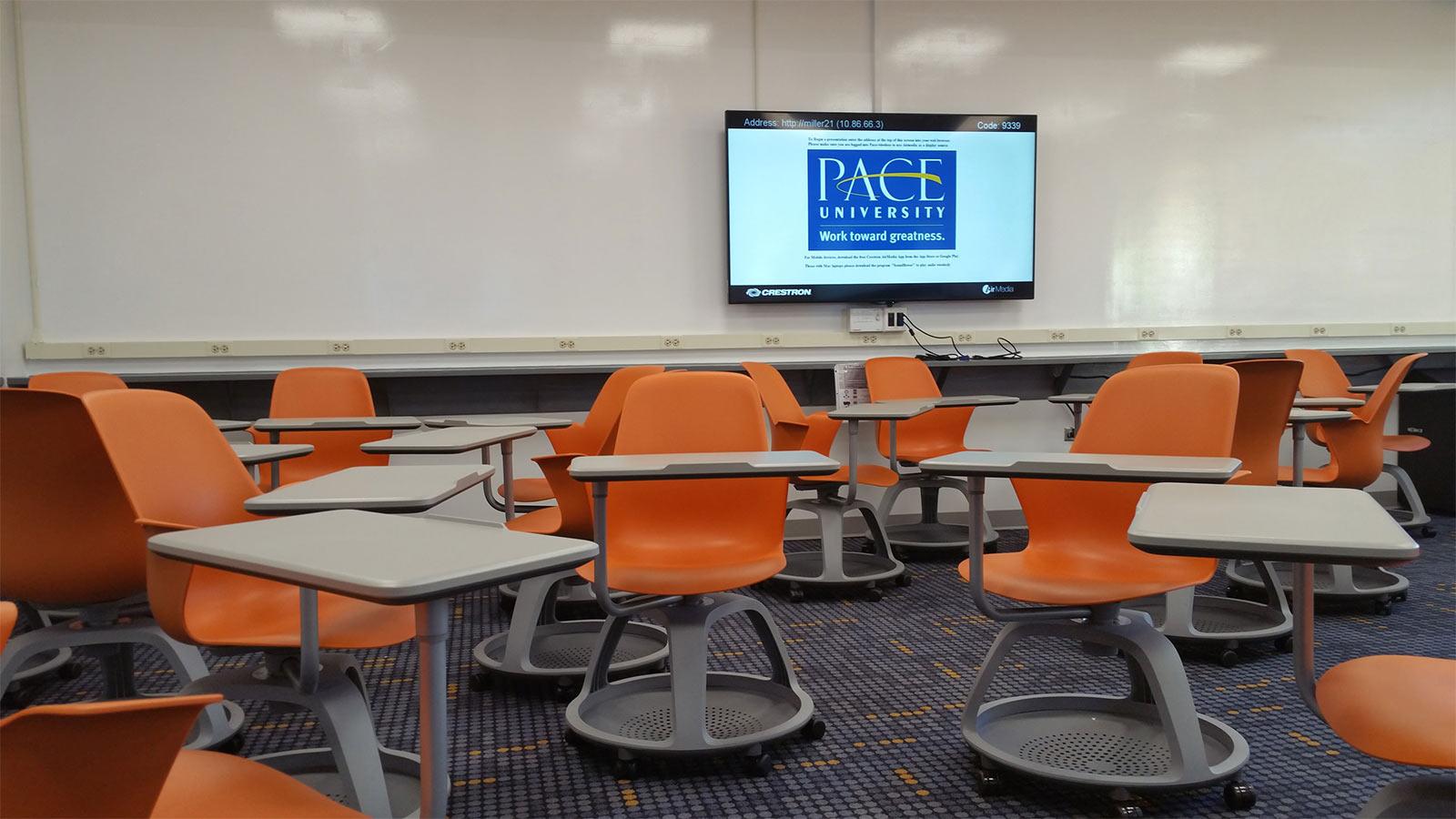 Charging stations along the wall for student devices
Wifi connectivity + HD camera allow you to host web conferencing with remote participants
Request an ALC For Your Course
To schedule an ALC for your course, fill out the Classroom Resource Preference Form.
ITS, Office of Academic Technologies | email for questions: acadtech@pace.edu